Vyacheslav Senchenko was surprised to be selected as Ricky Hatton's comeback foe
Vyacheslav Senchenko was surprised to be picked as Ricky Hatton's opponent for his comeback fight on Saturday night.
Last Updated: 24/11/12 9:39pm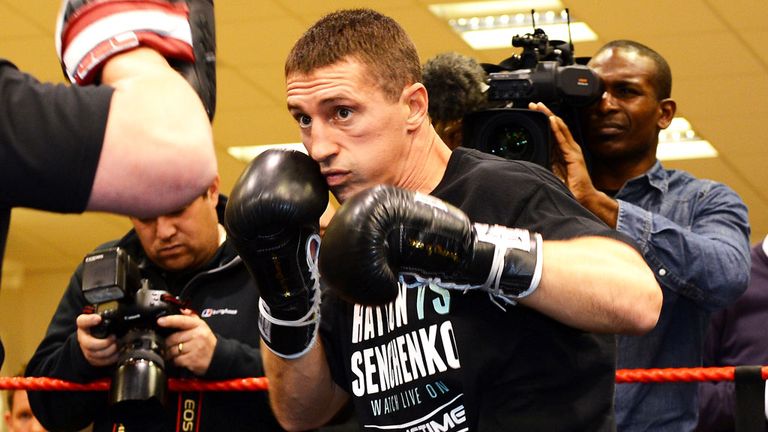 Senchenko, the former WBA welterweight champion, met Hatton at the organisation's annual awards in Panama City in February, and the Ukrainian felt the 34-year-old was far away from his fighting weight.
But a trimmed-down Hatton is now ready to return in the 147lb division and Senchenko stands in his way as the Mancunian takes his first step towards another world title fight.
"I met Ricky when we were at the WBA event in Panama earlier this year," he said.
"We had a photo together but I did not think we would end up fighting so soon because Ricky was much bigger."
Senchenko lost his belt in a stoppage defeat to Paulie Malignaggi, who is also believed to be in line to face Hatton, but the 35-year-old insists an injury ruined his preparations for the fight in April.
"The main thing that made me lose against Malignaggi was the bad cut and I lost the opportunity to apply my plan the way that I had foreseen," he said. "I got injured and that derailed everything.
"This is a unique opportunity to wipe out the only loss of my career and come back stronger and more popular than before, beating somebody like Ricky Hatton."
Senchenko has been respectful of Hatton, but fully expects to signal the end of his ring career with an upset win.
He said: "When I became a champion, Ricky was already a champion and he was already in the limelight. Now that he's given me the opportunity of this, it is a wonderful story.
"I've been preparing for this fight very seriously and I am convinced I'm going to win. I don't want to make any prediction - that will be shown in the ring - but I expect a tough fight.
"I don't want to say anything bad against Ricky. If it's too tough, maybe Ricky will decide to pack it up. If it's a good fight, he might take this challenge again."