Promoter Mick Hennessy believes Tyson Fury is way ahead of David Price
Promoter Mick Hennessy believes Tyson Fury is way ahead of his domestic heavyweight rival David Price.
Last Updated: 06/12/12 4:59pm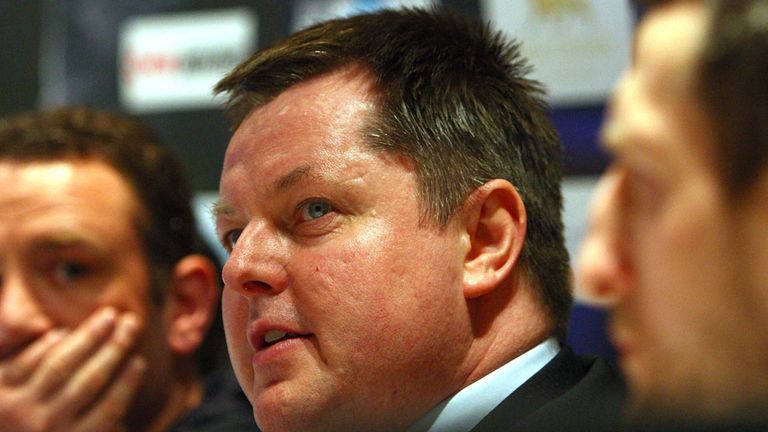 Fury, 24, produced a solid performance to beat former world title challenger Kevin Johnson on points in Belfast last weekend - the night after Price had stopped veteran Matt Skelton in two rounds in his native Liverpool.
Maloney, who promotes Price, used his post-fight interview to claim that Fury had turned down a £650,000 offer to fight the 29-year-old Liverpudlian, adding he was still willing to do business.
But Hennessy has now lashed out at his counterpart after Maloney subsequently revealed he was "walking his dog" rather than watching Fury's clash with Johnson.
Ridiculous
Hennessy told Sky Sports: "I have watched the Price fight on YouTube. I don't believe what he (Maloney) said about walking his dog. It's ridiculous.
"Tyson has gone on record saying that he will do the Price fight as long as Maloney is not involved in it. He's offended him, called him a coward and other things you shouldn't be saying to a fighter of that calibre.
"Tyson and his family were offended by that. We've made it clear that Tyson is in the driving seat as he's had more fights, fought better quality opposition, is higher in the world rankings and is better-known all round the world.
"If Price wants to step up to the table then financially we would make it worth his while. He's got to realise that Tyson has worked harder for his position. Maloney has caused himself a big problem with what he's said.
"Right now, we've got bigger fish to fry. At the end of the day, we're looking at the likes of Jonathan Banks and Tomasz Adamek, people who are regarded highly on the world scene. Right now, Price is a big fish in a small pond and hasn't fought a live opponent yet.
"They are trying gatecrash what we've achieved and it could be that they're worried about their man's chin holding up when he gets in at a higher level. We're not worried about that sort of thing. Our ultimate goal is to make Tyson world champion."
Fantastic
Whether the claims of 'gatecrashing' are accurate or not, Maloney has admitted the Price camp are close to agreeing a big new year fight of their own with former two-time world title challenger Tony Thompson the target.
But Hennessy is unconcerned and instead focused on praising Fury's display in overcoming Johnson, who took WBC heavyweight champion Vitali Klitschko the full 12 rounds in Berne back in 2009.
Hennessy added: "I thought Tyson looked fantastic - I was really pleased with how smartly he performed. It was an educated performance. We knew Johnson was looking for the knockout and was setting traps.
"He's got very quick hands for a heavyweight - a quality left hook and right hand. He is heavy handed, especially over 12 rounds. So all in all, it was a great gameplan and Tyson executed it brilliantly.
"He was smart and also showed a hell of a lot of flair. It's hand speed that you just don't see with heavyweights. It's an absolutely sensational jab, too; a Larry Holmes-type jab."