Ricky Hatton has called for Manny Pacquiao to retire after his defeat by Juan Manuel Marquez
Ricky Hatton has urged Manny Pacquiao to join him in retirement after his knockout defeat by Juan Manuel Marquez.
Last Updated: 11/12/12 1:10pm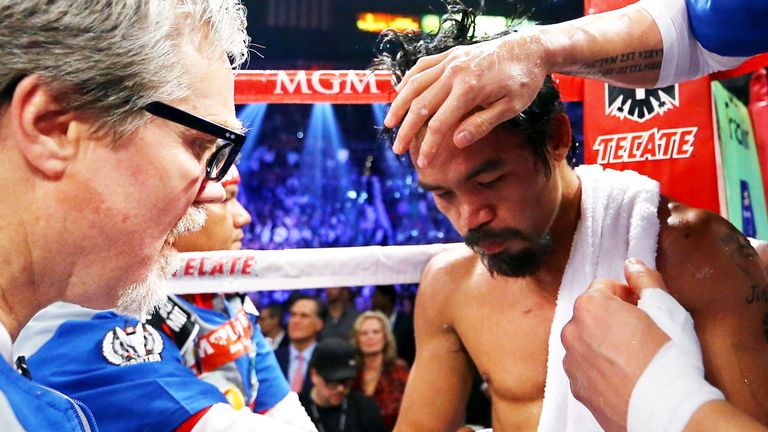 The Filipino star toppled face first onto the canvas after he was caught by a huge right hand from Marquez in the sixth round and there were worrying scenes as he remained prone for a number of minutes.
Pacquiao's air of invincibility has been removed by this defeat which follows a disputed decision loss to Timothy Bradley and a future meeting with pound-for-pound rival Floyd Mayweather now appears unlikely.
The Pac Man has suggested he will fight on, but Hatton believes his old foe has nothing left to prove after establishing his place in boxing history with numerous world title wins.
"The only advice I could give Manny Pacquiao is that his legacy is already secured," said Hatton.
"The thing is with us fighters is that there is always one more fight.
"What's he (Pacquiao) going to achieve by having one more fight? Probably nothing. He's an eight weight world champion. There's nothing more to be said.
"You'd like to see him go into retirement and spend some time with his family and be happy. He can't do any more from a boxing point of view."
The Mancunian quit the sport for a spell after he was halted by Pacquiao in May 2009 and he is satisfied with his decision to retire permanently after being stopped by Vyacheslav Senchenko on his return to the ring last month.
"I won't be fighting again," he said. "I got what I wanted from my comeback even though it ended in a defeat. I needed to find out if I still had it, and I haven't got it, and I can move on now."