Amir Khan admits that training with Andre Ward has inspired him to become a champion again
Amir Khan admits that training with Andre Ward has spurred him on to become a world champion again.
Last Updated: 12/12/12 5:19pm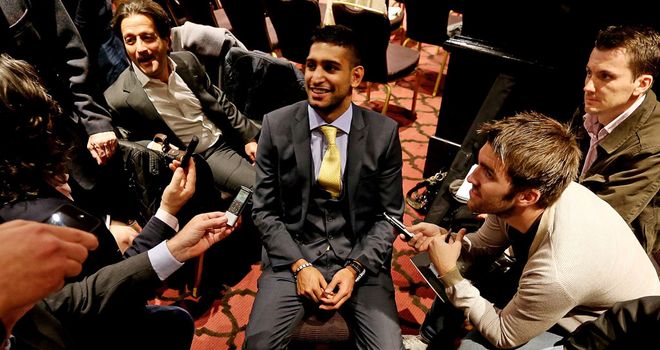 Khan has linked up with Ward's trainer Virgil Hunter after his shock defeat by Danny Garcia in July and he is full of admiration for his new stablemate, who is considered one of the top fighters in the sport.
Ward has defeated the likes of Carl Froch, Mikkel Kessler and Chad Dawson, and Khan has been picking up tips from the super-middleweight as he prepares to face Carlos Molina on Saturday night, live on Sky Sports.
"Having the likes of Andre Ward to train alongside is great," said Khan.
"He's one of the best pound for pound fighters in the world and it inspires me to do well because I want to be in the same position as him one day.
"He holds world titles and can call himself a world champion and I want that again too. He's certainly an inspiration in a camp like this.
"I've been watching Andre training and I even come into the gym on days off sometimes to see him spar. I just want to pick up a few things from him."
Composure
Khan believes he and Ward have similar qualities, but the often-reckless Brit has revealed that Ward is teaching him how to keep his composure in the ring.
"He's a very slick fighter. We have a very similar style because we have quick hands, quick feet and we've been working on the same strategies," said Khan.
"Virgil will sit next to me and explain what Andre is doing, why he's doing this, why he's doing that.
"We've not sparred each other because he's obviously a lot heavier than me but he has given me advice about staying relaxed, seeing things better."