Amir Khan determined to bounce back from back-to-back losses by beating Carlos Molina
Amir Khan aims to end a catastrophic run by beating Carlos Molina in a 'make or break' fight on Saturday in Los Angeles
Last Updated: 14/12/12 1:55pm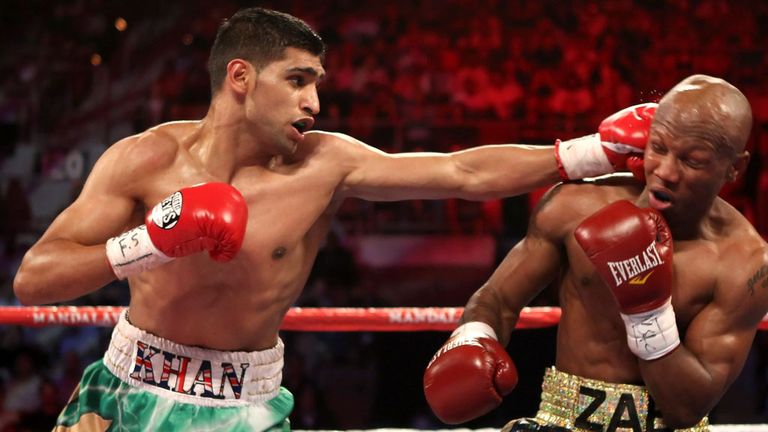 The Bolton light-welterweight admits the last 12 months have been the worst of his life, losing a controversial decision to Lamont Peterson a year ago, before being stunned by Danny Garcia in a fourth-round stoppage on his next appearance.
Khan faces unbeaten Molina at the Los Angeles Memorial Sports Arena on Saturday, extremely aware that another defeat will end his world title hopes, and possibly end his career as an elite-level fighter.
"It's a make or break fight for me because I have to win it if I want to move on to bigger and better things," said Khan.
"This year has probably been the worst of my life, losing my WBA world title, having those two defeats and things that happened. It's been tough. It's just about regrouping and redeeming myself.
"It's one of the biggest fights of my life after everything that's happened. Every fight is a big fight for me but this is one that I'm taking very seriously because, the way I see it, it's a make or break fight. I need to win this fight to get back on the scene again.
Game plan
"If I get beaten it would put me back to European level. It would put me outside of that world-class level. I still believe I'm at world-class level and in the top ten in the world but it would push me right back down. It would be tough for me to make it back again because I've worked so hard to get into this position.
"I know that as long as I stick to the game plan and my instructions, then I'm not going to lose this fight. In this fight I'm going to just stick to what I know best.
Molina is confident he can upset the Briton on Saturday, despite still needing to prove himself on the world stage having previously campaigned at lightweight.
"We know Amir doesn't like pressure fighters and whatever way we can make him uncomfortable, that's what we'll do," said Molina.
"So expect an all-out war. We're going to fight in my city, in LA, in the 'hood. So I'm going to make this a street fight.
"He can't come to my 'hood and beat me."