Amir Khan believes he has the tools to hand Carlos Molina a first loss
Amir Khan is determined to end a difficult year with a "big bang" after weighing in for his fight with Carlos Molina.
Last Updated: 15/12/12 5:10pm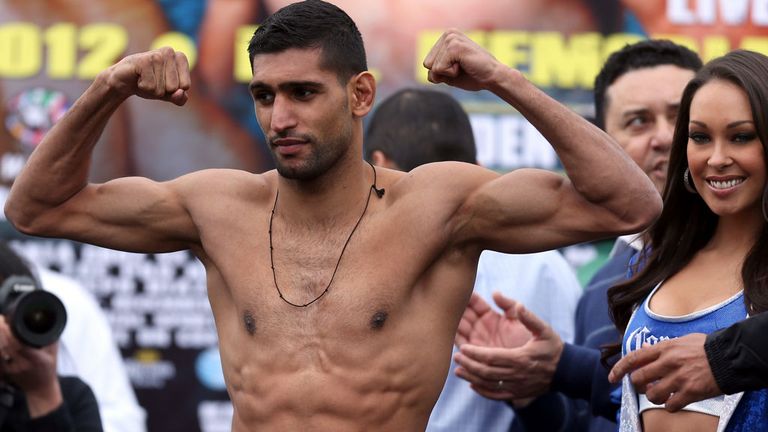 The Bolton boxer was a quarter-of-a-pound under the light-welterweight limit on the scales for what will be his first outing since being sensationally stopped by Danny Garcia back in July.
Molina - who has not tasted defeat in 18 outings as a professional but is stepping up from lightweight for the biggest fight of his career - also weighed in a fraction under 140lbs.
"It's going to be a tough fight no matter what," Khan told Sky Sports. "We've trained very hard.
"It's been a tough year for me but I'm going to come back with a big bang and finish the year off strongly.
"We know we've got the right tools to beat Carlos Molina. It's all about being smart and sticking to the gameplan."
Khan has been beaten in his previous two bouts, the shock loss to Garcia coming off the back of a controversial points defeat at the hands of Lamont Peterson just over 12 months ago.
Catastrophic
Khan, 26, bristles at suggestions he would be staring at retirement should he lose against unfancied Molina (17-0-1, 7KOs). But he concedes yet another defeat would have catastrophic repercussions.
"It would be tough," he said. "It would be very tough. If I get beaten it would put me back to European level. It would put me outside of that world class level.
"I still believe I'm at world class level and in the top 10 in the world but it would push me right back down. It would be tough for me to make it back again because I've worked so hard to get into this position.
"But we don't want to be in that situation and I've not thought about losing. I know that as long as I stick to the gameplan and my instructions, then I'm not going to lose this fight.
"I made a lot of mistakes in my previous two fights and I know I said for those fights that 'I'm not going to lose, I'm going to stick to the gameplan' but on those occasions the gameplan went out of the window and I tried to do more.
"In this fight I'm going to just stick to what I know best.
"It's been a maturing experience, big time. I'm a lot more mature now than I've ever been. Having that defeat has only made me a more mature fighter, a better fighter, a more focused fighter."
Molina is understandably a significant betting outsider considering he has mainly campaigned at lightweight and has yet to prove himself at the top level.
However, the Californian is confident he can follow Peterson and Garcia by springing an upset against the high-profile Briton.
"We know Amir doesn't like pressure fighters and whatever way we can make him uncomfortable, that's what we'll do," Molina told said.
"So expect an all-out war. We're going to fight in my city, in LA, in the 'hood. So I'm going to make this a street fight. He can't come to my 'hood and beat me."
Watch Khan v Molina LIVE on Sky Sports 1 HD from 1am on Sunday morning, or join us on skysports.com for coverage of the action from Los Angeles