Tom Stalker brings an end to his days as an amateur by signing with Matchroom
Tom Stalker has become the second Team GB 2012 Olympian to turn professional after signing with Matchroom.
Last Updated: 10/01/13 8:33am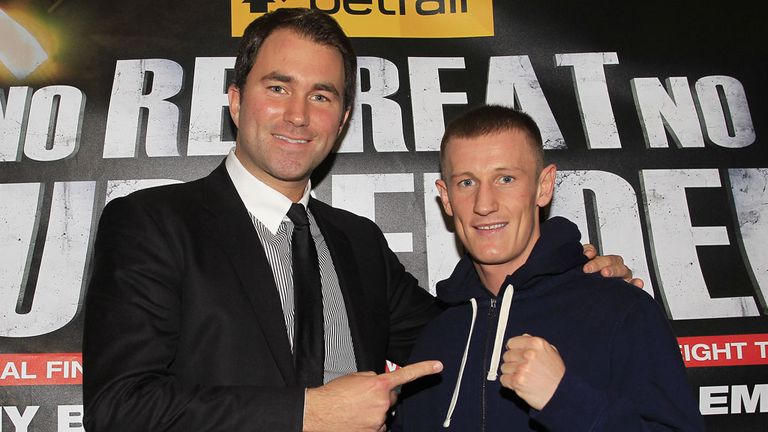 The Team GB boxing captain, who has won medals at world, European and Commonwealth level, has signed a promotional contract and looks set to make his professional debut next month.
The 28-year-old bowed out in the Olympic quarter-finals in London, four years after missing out on selection for the Beijing Games, and he is ready to put the disappointment behind him after giving serious thought to staying amateur for the next Olympics in Rio in 2016.
The light-welterweight will be trained by Paul and Mick Stevenson at Everton Red Triangle, where he will join a crop of British fighters that includes flyweight champion Kevin Satchell.
Stalker enter the ring at Liverpool's Echo Arena on March 30, an event headlined by fellow Liverpudlian Tony Bellow.
"I feel I am going to be exciting to watch as a professional boxer," he said.
"I felt it was time for me to turn professional now and see how far I can go. I have done everything I could possibly do as an amateur, bar winning an Olympic medal.
"Even though I didn't medal myself, as a team I have captained the most successful amateur boxing team we have ever had and that was a big thing for me.
"It wasn't just a three-week tournament it had been four years of trying to qualify to win those medals so to see all the lads and women do so well and win medals was amazing and I am very honoured to have captained that team."
He added: "Winning the Commonwealth Games gold medal was obviously a highlight for me in the amateurs but I would say qualifying for the Olympics was a big moment after all the hard work it took to qualify.
"Since the Olympics I haven't had a goal and I have been a bit depressed, especially seeing the other lads doing all sorts of stuff but now I have that hunger back and to get in that ring and fight is going to be amazing.
"The one for me is going to be March, boxing a homecoming in Liverpool. It is going to be amazing for me to be boxing in front of all my friends and family in Liverpool and that is when I will really feel like a professional."
Rob McCracken, Performance Director at GB Boxing said: "It has been very good working with Tom over the last three years, when he has shown himself to be a fine boxer with the ability to win medals at major tournaments.
"It is disappointing for us that Tom has decided his future lies away from the GB Boxing squad but he departs with our best regards, and we wish him every success in his future career."
Anthony Ogogo, who won a bronze medal at London 2012, was the first of the Team GB fighters to sign a professional contract last month, joining Oscar de la Hoya's Golden Boy Promotions.