Carl Froch is confident a deal with Mikkel Kessler can be reached on Monday
Carl Froch told Sky Sports a fight with Mikkel Kessler is 'very close' as time for a deal to be done runs out.
Last Updated: 08/05/13 1:34pm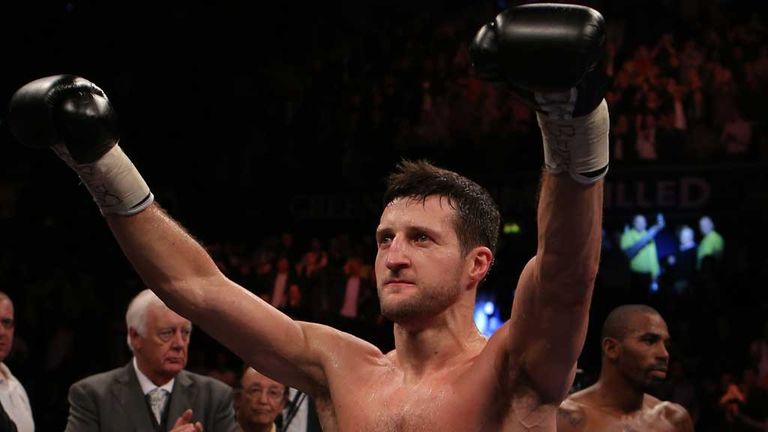 Promoters Eddie Hearn and Sauerland must reach a compromise by the end of play on Monday with the IBF demanding Froch fight mandatory challenger Adonis Stevenson instead.
Purse bids are due on Tuesday but the sanctioning body have agreed to issue a waiver if a unification fight with WBA champion Kessler can be made instead.
And Froch seems confident the Dane, who won their first clash in 2010, will agree to put his belt on the line in a re-match.
"We're very, very close, I'm very excited about it," he told Sky Sports. "We're at the final stage of the contracts being signed. But it's a race against time.
"Purse bids for the mandatory against Adonis Stevenson are set to go ahead on the 15th but this is the fight I want.
"We're both warriors. If this fight doesn't happen it's because of Mikkel Kessler, and he's not the warrior I think he is.
"I'm sure he's going to decide this is the right thing to do, not just for himself but for the fans and the television audience. This is the biggest fight potentially for 2013, bar none.
"It's close to being done. I think he knows it's a difficult fight...he won a close decision in Denmark so let's get him over to the UK and do it again.
"It's going to be very entertaining because of the way we both fight, it's one of those where we're both going to go toe-to-toe.
"I don't think he'll come to Nottingham. It's a daunting prospect, so if we can do it at the O2 in London he can get plenty of fans into the capital and I think it'll be fair."