Dereck Chisora claims he is a reformed character after his row with David Haye
Dereck Chisora insists he has learned his lesson after last year's ugly row with heavyweight rival David Haye.
Last Updated: 14/01/13 9:35pm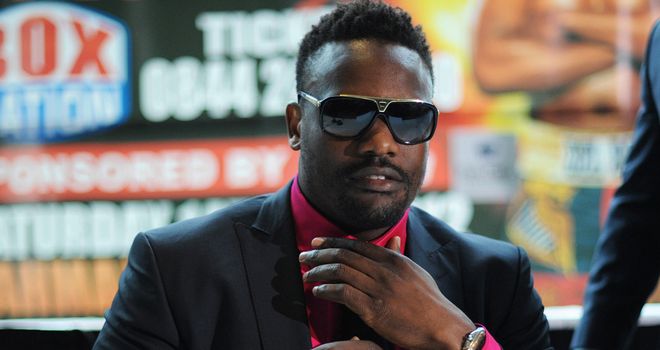 The controversial heavyweight is hoping to regain his British boxing licence after he was stripped of it in the wake of his press conference brawl with Haye.
Chisora was involved in other unsavoury incidents in 2012 as he slapped opponent Vitali Klitschko at a weigh-in and spat water in the face of his brother Wladimir.
The Finchley man has taken anger management lessons in a bid to convince the BBBofC that he is mentally fit, but remains keen to cause a stir if he is cleared to fight on the 'Rule Britannia' bill on 16 March at Wembley Arena.
"We have done a lot of work. We have done some lessons. It's all good now," Chisora said.
"Last year is the past. Now is 2013 and we will move on in a good way. We are just going to continue the career now. I am feeling a million dollars.
"I want to put (the Haye) episode to bed, that's what I want to do. We will get this licence, get the fight out of the way and then we will move on to something else.
"Don't worry about anything. I will bring drama."
Chisora suffered a brave points defeat to WBC champion Vitali Klitschko in February before he was knocked out by Haye in July, but he still expects to land another world title shot in the near future.
"Boxing is dead man. It needs people like us to keep it vibing so we are going to be after a world title this year, 100 per cent," he said.
Promoter Frank Warren is hoping to line up a rematch with Tyson Fury, who defeated Chisora on points in 2011, and is also keen to pit him against another hot British prospect, David Price.
"There are a great number of permutations with fighters from Britain," said Warren.
"You have Haye, Fury, Price..that's probably the strongest heavyweight division you have seen in many years and Dereck is well in the mix.
"I would like to see Dereck 100 per cent fit back in the ring again with Tyson Fury. It's his own fault what happened last time - he got beat by the better man on the night.
"I know Dereck could have done much more in getting ready for that fight and that could make a difference."