Carl Froch hungry for revenge in his rematch with Mikkel Kessler this year
Carl Froch will be driven by a burning desire for revenge when he prepares for his rematch with Mikkel Kessler.
Last Updated: 08/05/13 1:37pm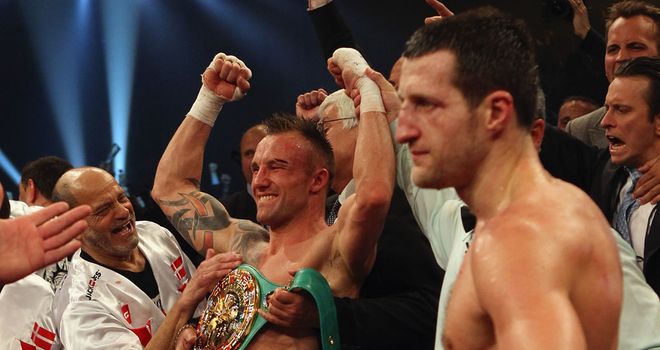 Froch suffered his first career loss at the hands of Kessler in a red hot atmosphere in Herning, Denmark in 2010, but he will get the chance to avenge this defeat after both fighters agreed to a return bout in Britain this year.
The Nottingham man believes the super-middleweight showdown will be one of the biggest fights on these shores in recent years and is determined to set the record straight.
He told Sky Sports News: "I don't know what has been going on with the contracts or if Mikkel Kessler's been having doubts himself, which I don't blame him because he's in for a tough fight, as am I.
"I'm just delighted that the announcement has been made and Froch-Kessler two is on. It's going to be one of the biggest fights in Britain for the last 10 years bar none, simple as that.
"I've got a lot of respect for Kessler, he's a warrior like myself, he's a tough fighter, his style, stylistically we are made for each other.
"It's perfect, we both like to fight, let our shots go. We don't hold and slip and slide so much. We stand in range and just try and take each other out."
Reflecting on his defeat by Kessler, he added: "Anyone who saw the first fight didn't see the best of me, but they saw the absolute best of Mikkel Kessler. Kessler's in for a rude awakening in the rematch, especially coming over to the UK.
"The first time he beat me he won a close points decision. He beat me fair and square, the better man won on the night.
"I want to set the record straight and I have been given the opportunity to set the record straight. I honestly cannot wait to start training camp. I'm just so motivated, it's unbelievable."