Steve Collins to come out of retirement to face Roy Jones Jr
Steve Collins has revealed he could come out of a 16-year retirement to fight Roy Jones Jr.
Last Updated: 15/01/13 11:15pm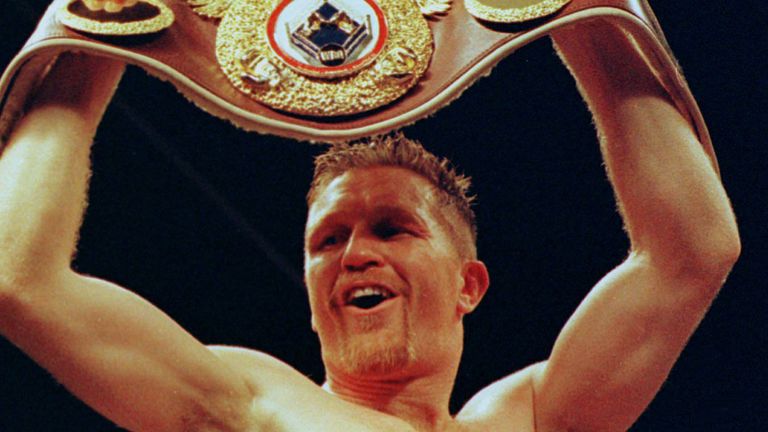 Ireland's former WBO middleweight and super middleweight champion last fought in 1997.
He always wanted to take on the great American, with the fight almost coming to fruition on a number of occasions in the 1990s.
Collins, now 48, told TalkSPORT: "It's not a comeback as such, at my age I'm too old for that, but it will be the end of a 15-year grudge.
"It's a fight Roy Jones needs. He claims to be one of the greatest pound-for-pound fighters around but he refused to fight me.
"I was very happy with my career, but the one fight I wanted was Roy Jones, and when that didn't happen I retired. To me he was afraid of me. I don't think he's a coward, but at the time he was!
"But now it's happening. I spoke to Roy and we're going to get it on. He wants one more fight before he retires and this is the one he wants. If we get a good offer we'll split it down the middle and get it on.
"I would like 10-12 weeks to get ready. In my mind I already see how that fight goes and I can see the outcome. I feel like I've never been away. I'm looking forward to it."
Collins insists the fight should be taken seriously, despite their ages.
"This is still a match," he added. "We're the same generation. I wouldn't even consider fighting a guy 15 or 20 years younger than me, because that's not a match. But we're the same age and this is a fair match. It won't be any different to how it would have been 15 years ago.
"I'd love the fight to be in the UK but there is interest from Dubai, Russia, China. Dubai looks the favourite, but we'll have to see where the offers come from.
"Hopefully we'll get an offer that's suitable for us both and we get it on. It will give all old-timers some hope! I've got medical tests arranged and if I don't get a 100% pass form the doctors, then forget it.
"There's no way I'll fight if I don't get the all-clear."
Jones jr last fought in June last year, beating Poland's Pawel Glazewski in Lodz.