Mikkel Kessler expects another war against Carl Froch this year
Promoter Kalle Sauerland has revealed that Mikkel Kessler is readying himself for another war against Carl Froch.
By Richard Damerell
Last Updated: 08/05/13 1:39pm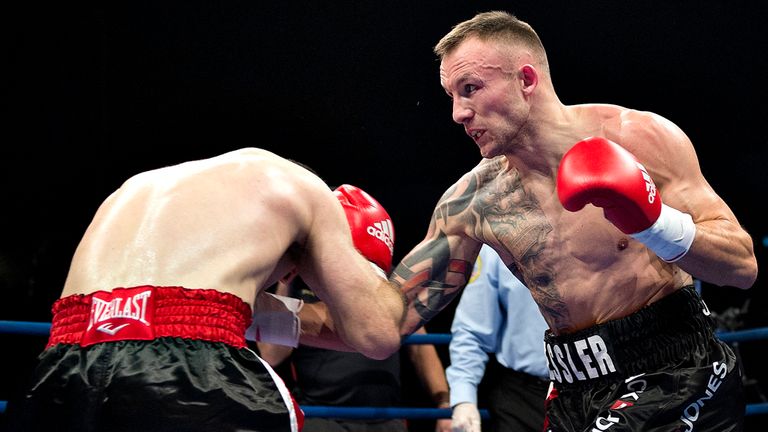 The rematch between the super-middleweight rivals was confirmed this week, with the date and UK venue yet to be decided, and the pair are expected to serve up a thrilling contest.
There was plenty of drama in their first meeting in 2010 with Froch and Kessler battling for 12 gruelling rounds before the Dane took a points victory in Denmark.
Sauerland admits his fighter is relishing the return bout and responded with a message of intent when told he would be facing Froch again.
He said: "It's going to be a war. Mikkel, when I told him, I sent it to him by SMS and he replied: 'I'm ready for war'. So he's ready for it."
When asked about Kessler's decision to face Froch on British soil, Sauerland added: "He's a man of his word, he made a promise.
"For us as promoters it was always clear, the first fight being in Denmark, the second fight had to be over here. No problem with that. He's been over to the UK before. We're looking for a different result this time."
Invasion
Kessler is hugely popular in his home country and brought an army of fans for his last trip to these shores in 2007, a points loss to Joe Calzaghe, and Sauerland predicts another Viking invasion.
"I've been asked a few times, how many do I expect to come over? Wherever we do it, we'll look to get a lot over," he said.
"The last time there were 5,000 there for the Calzaghe fight, and that was in Cardiff, so if it ends up in London or Manchester then it's going to be even more.
"It's a huge fight. In Denmark, people say is it bigger than Calzaghe? I say yeah of course it is. It's a different time in his career, he needs to win. We've got the backdrop of what happened in the first fight, so it sets it all up for an absolute classic."
Kessler's career has been disrupted by injuries in recent years, but Sauerland insists his boxing skills haven't diminished and believes he will be in peak condition for Froch.
"I think the injury problems haven't changed the way he fights," he said.
"If you look at his last two fights, I won't put them in the bracket of Carl Froch of course, he finished Allan Green with a left hook to the chin and he finished Brian Magee with a right cross to the body. So he's a guy who can throw every punch.
"We don't really need to sell Kessler too much. He's looking forward to it. The only problem Mikkel Kessler's ever had is he's almost addicted to training.
"He's one of these super fit guys. Some of our other world champions, sometimes I give them a kick when a fight comes along, but there's no problem there.
"He's motivated. He wants to put another one over Carl, we're confident that's going to happen."