Darren Barker willing to face Andy Lee in Ireland later this year
Darren Barker hopes to land a fight against Andy Lee and would even travel to Ireland for the middleweight clash.
Last Updated: 23/01/13 3:59pm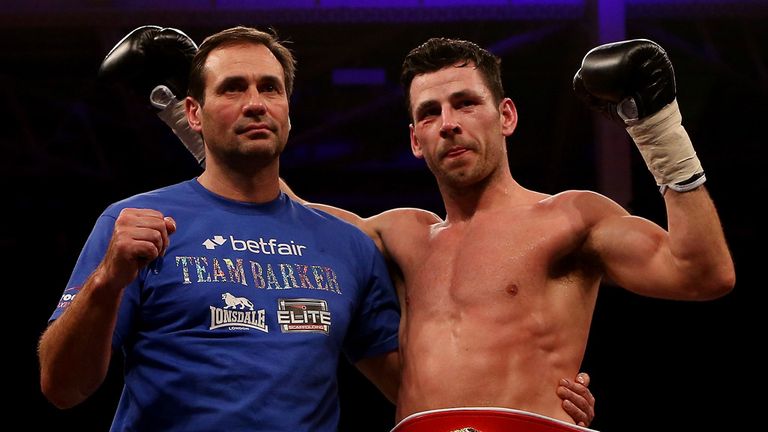 Barker marked his return with an impressive stoppage win over Kerry Hope in December and will fight again on the 'London's Finest' bill at Wembley Arena on 9 March.
The Barnet man had hoped to face Lee, but the Irishman will instead fight Anthony Fitzgerald on the undercard of the Carl Frampton-Kiko Martinez card in Belfast.
Barker remains hopeful he can battle Lee later this year and would travel to his rival's home country to make the bout happen.
"I'd go to Ireland to fight him. Not a problem. I asked Eddie, can you get Andy Lee? I want to fight him," said the former European champion.
"I believe I've got his number. I've got the style to beat him. I was absolutely gutted that it couldn't be made for this fight, but it's about being patient and I'm sure these fights will happen.
"I'm sure he wants the fight as much as I do."
Dangerous
Gennady Golovkin defended his WBA title with a dominant stoppage win over Gabriel Rosado on Saturday and his promoters have included Barker on a list of possible opponents.
Barker admits the hard-hitting Golovkin is one of the most dangerous fighters in his division, but he would still relish another world title fight after his creditable stoppage defeat against Sergio Martinez in 2011.
"I mean if there is anyone you wanted to swerve then it would be him by the looks of things," he said. "But like I say, I fought the best in Martinez and I wouldn't shy away from fighting Golovkin.
"I would get in there with him tomorrow and I honestly mean that. He's got a good amateur pedigree he's a big puncher with both hands, but I believe I've got the style to beat any of the world champions out there.
"I learned so much from the Martinez fight that I don't think there's anybody I should be afraid of."
Martin Murray has been given the next crack at Martinez after Barker and Matthew Macklin fell short and the Londoner hopes his rival can produce an upset win in Argentina on 27 April.
"He's up against it. He's fighting a great champion in Sergio and you never know with his age, he could just age overnight. It can happen," said Barker.
"I really wish Martin the best of luck. Obviously I have one eye on my own career. There's an opportunity that maybe I could fight him if he did win, but aside from that I'm a British boxing fan and I hope he can pull it off."
Barker has been dogged by injuries and briefly retired after withdrawing from a top-of-the-bill clash at Alexandra Palace, but is glad to be back in action.
"Every morning I'd wake up and out of my bedroom window I can see Ally Pally and was buzzing," he said.
"To have to wake up the next morning, pull out because of injury and see Ally Pally. You think is this worth it?
"It was a decision I made when I was down in the dumps and I've got some really good people around me, who have helped me through it. Now I'm looking better than ever some people are saying."