Lee Purdy hopes to edge closer to a world title shot by knocking out Carson Jones
Lee Purdy is confident he can knockout Carson Jones as he tries to secure a dream world title shot.
By Richard Damerell
Last Updated: 23/01/13 4:07pm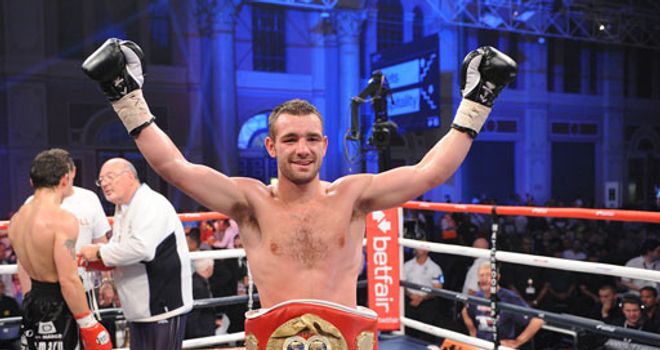 Purdy picked up three stoppage wins last year, including a four-round demolition of Argentinian Gumersindo Carrasco in his last outing, and he will next wage war with the dangerous Jones on March 9 at Wembley Arena.
The former British welterweight champion believes he must produce a career-best display against Jones, who gave Kell Brook a torrid night, but he hopes to supply another explosive victory.
"I was a big underdog in my last fight and I came through it with flying colours. I hope to do the same against Carson Jones," he said.
"Carson Jones isn't going to change. He is going to try to come forward and pressure me, but I think this will be a good fight to showcase my power by knocking Carson Jones out.
"It's going to be my best performance to date, without a doubt. I want to put a big performance in."
Prepared
Purdy was originally due to face Jones in December, but he withdrew with a virus and the American instead laboured to a draw against Dean Byrne.
This disappointing showing has not convinced Purdy that Jones is on the slide as he expects his opponent to be far more motivated for their meeting.
"He was supposed to fight me on that night and I can imagine he was just as devastated as I was for the fight not to come off. So I'm not going to read much into that performance," he said.
"I'll just be prepared for the best Carson Jones."
Brook's gritty points win over Jones last year left him one fight away from a crack at IBF champion Devon Alexander and Purdy admits his ultimate goal is a world title shot.
"It would mean the world, that's what I'd love to do, but I've got to get through Carson Jones first," he said.
"He (Brook) fought Carson Jones in an eliminator for a world title, then he fought in a final eliminator, and now he's fighting for a world title himself. I could be a couple of fights from a world title shot myself."
The 'London's Finest' undercard features Prizefighter light-middleweight winner Larry Ekundayo, who has joined Purdy in the 147lb division, and promoter Spencer Fearon insists he could dethrone British champion Frankie Gavin.
"Domestically, the best guy out there right now is Frankie Gavin. I believe that Larry could beat Frankie Gavin right now," said Fearon. "If I didn't believe that, then I wouldn't be working with him.
"But I'm not going to call him out because this is boxing and anything can happen inside boxing. What we do know is we're going to showcase a talent that is superb."