Tyson Fury renews attack on Klitschkos and vows to put Wladimir 'in a car crash'
Tyson Fury told Ringside's Toe2Toe podcast he is on a mission to "rid boxing" of the Klitschko brothers.
Last Updated: 29/01/13 6:13pm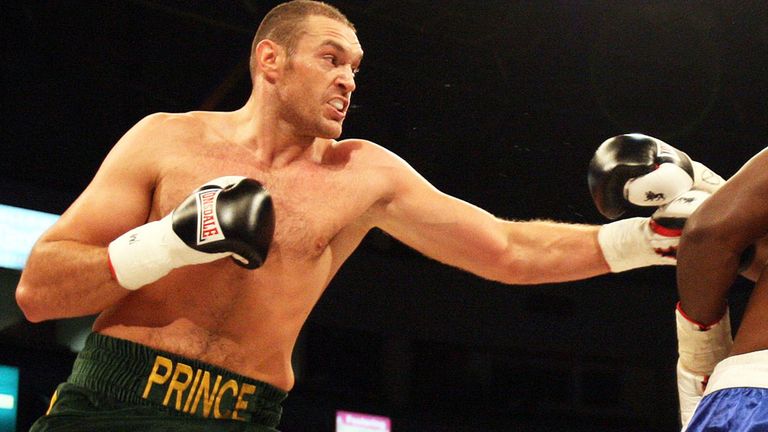 The unbeaten heavyweight has spent months calling out the brothers, who hold all four recognised belts between them.
But his tactics have so far failed to pay dividends, and next up is likely to be a trip to Madison Square Garden on April 20 to take on former IBF cruiserweight champion Steve Cunningham.
Fury has promised to "beat Cunningham down", but he told Ringside's Toe2Toe podcast his sights are firmly trained on Vitali Klitschko's WBC crown.
"I'm going to snatch that WBC title," said the 24-year-old, who is ranked fourth by the organisation and has spent time in the Klitschkos' training camp.
"There's a big queue of people trying to get it in front of me, but they're not ranked in front of me. I'm ready to go - why not let me fight next?
"I don't like either Klitschko, they're bad for everything to do with boxing. As soon as I get hold of them and rid the sport of them the better - that's genuinely what I feel.
"They jab someone to death, when they have someone hurt they won't jump on them and finish them. They've got to be screamed at and shouted at."
Fury reserved his harshest assessment for Vitali's brother Wladimir, the IBF, WBA and WBO king whose legendary trainer Emanuel Steward died last year.
"Wladimir is a disaster waiting to happen," he said. "Now Emanuel's gone he's got no proper advice in his ear. Hopefully I get my chance and I'll definitely put him in a car crash. But they know this and they'll avoid me."
One man not avoiding Fury is domestic rival David Price, whose promoter Frank Maloney last year said he had offered the Mancunian £650,000 to settle the pair's bad blood in the ring.
Fury is confident he would give Price "a good hiding", but he said: "At the minute what's the point in fighting him? There's nothing to gain, no world titles.
"I'm not interested in the British title, I gave that up two years ago. Unless it's for a world title or something major, we're not fighting."