Eddie Hearn says an outdoor venue was never in the running for Froch-Kessler
Promoter Eddie Hearn has revealed the Carl Froch vs Mikkel Kessler rematch was always unlikely to be held outdoors.
By Adam Norman
Last Updated: 08/05/13 1:46pm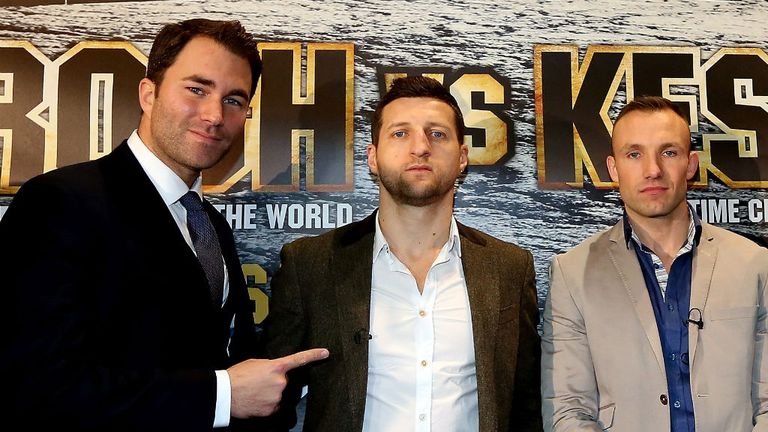 Hearn had originally been thinking of staging the event at a football stadium to maximise the attendance, but admitted he always favoured an arena having plumped for the O2 in London.
"Outside wasn't really a possibility," he told Sky Sports. "We looked at it but I've been involved in outdoor shows before and they can be a right pain in the arse.
"They sound terrific and a brilliant idea, and then you get there and it's raining, or the flooring costs an extra £50k, then you can't have seats here or there because it's a fire exit. And then you lose the atmosphere because it's not enclosed.
"The bottom line is you need that security. I think the O2 is the perfect stage."
Deliberate
Some have questioned the reasoning behind staging the fight on the same night as the UEFA Champions League final in the capital, but Hearn said May 25 was a deliberate move.
"You've got a huge captive audience at home," he explained. "Of course we won't be conflicting with the timing of the Champions League, this fight will take place anywhere between 11.15pm and midnight.
"For us, part of the decision with Kalle Sauerland was that this is a tried and tested method on a date with a huge football match, it's been tried before and driven huge numbers.
"It's very, very deliberate to make sure we've got that huge sporting audience at home on their sofa, already watching the Champions League who can then switch over and watch another great sporting event.
"It certainly won't effect the live gate as we've already sold out."
Hearn also explained that there would not have been another Froch-Kessler fight without resorting to Sky Box Office.
"If I had my own way it wouldn't be on box office, it would be open to as many people as possible, but the reality is no box office, no fight," he added.
"It would have been impossible to make. So embrace the fact it's happening. I'd rather give people the choice to watch it or not, rather than it not happening at all.
"We sold 10,000 tickets in 45 minutes which tells you everyone wants to watch this fight. If there's one man who deserves a box office night it's Carl Froch."