Carl Frampton insists he knows exactly what to expect from Kiko Martinez in Belfast
Carl Frampton intends to take his frustation out on Kiko Martinez when he finally faces the Spaniard on Saturday.
Last Updated: 07/02/13 7:28pm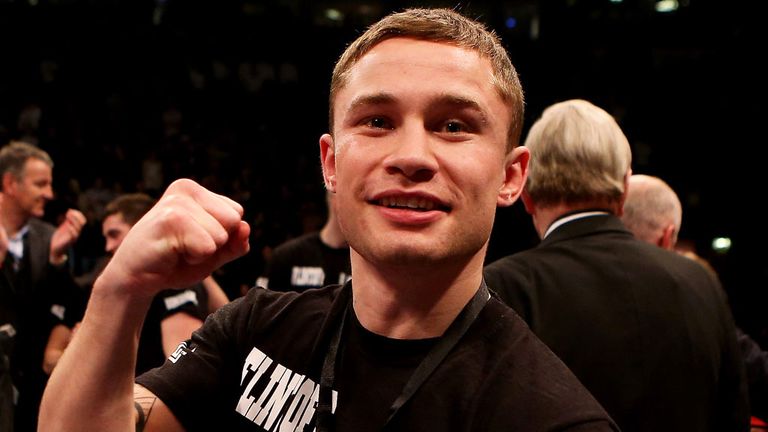 'The Jackal' is determined to make it third time lucky having twice seen scheduled fights against Martinez at the Odyssey Arena postponed in the past.
Super-bantamweight Frampton impressed in his last outing on home soil, stopping former IBF champion Steve Molitor last September, and intends to stretch his unbeaten record to 16-0 this weekend.
"Waiting has really frustrated me," he said.
"The first time he pulled out with about 10 days' notice, the second time he was kind enough to give us five weeks to get another opponent. It has frustrated me that it has taken until now for it to happen.
"I believe I could have been European champion when I was originally meant to fight him in my 11th fight, but it is just going to be worse for him because I am a better fighter than I was then and he is going to be in for a world of pain.
"It is a big fight, a big chance for me to look good, with his European title on the line and my IBF Inter-Continental title too.
"It has been a long time coming and I am excited about it, I can't wait, I think it is going to be a great crowd who will make a lot of noise in the Odyssey."
Aggressive
Frampton believes he knows exactly what to expect from Martinez, who despite being the reigning European and IBF Inter-Continental champion finds himself a heavy underdog ahead of the bout.
"I think that he only has one style, which is come forward and be aggressive," the 25-year-old from Belfast added.
"He is a big puncher and he is dangerous but I think I can box off the back foot, I can out fight this guy if I want, I can stand and trade with him, I can outman him, I can outpunch him.
"I am very confident, I am always confident in my own ability, I go into every fight believing that I can win and there is no difference with this one. I have trained really, really hard for this fight.
"I have had a long camp, we have done probably 200 rounds of sparring, I am in the best shape I have ever been in and I need it to be like that because I know it is going to be a really tough one.
"An impressive win could make the boys at the top of the division stand up and take notice. I am not looking past Martínez; he is a better fighter than he has been in the last few years. He has been in America training for this, taking it seriously. But he is not going to suddenly turn into Sugar Ray Leonard having been in America for a few months.
"It will be the same Kiko Martínez, a little bit sharper and a little bit fitter but I am 100 per cent confident that I am going to get the win here."