Kiko Martinez has vowed to make Carl Frampton pay
Kiko Martinez vowed to 'shut Carl Frampton's mouth' at a lively press conference ahead of their clash in Belfast.
Last Updated: 10/02/13 10:13am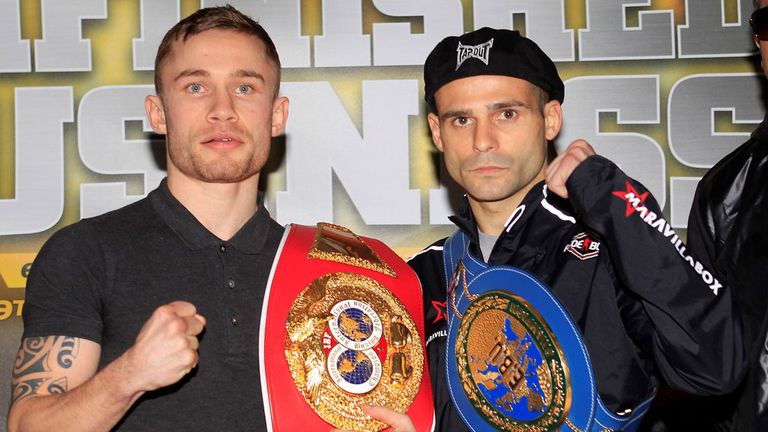 The European champion twice fought Rendall Munroe for the title in the UK - losing on both occasions - but defeated Bernard Dunne six years ago in Dublin.
And the Spaniard told Frampton he will make him pay for having to leave his home nation to defend the title at the Odyssey Arena.
"I've come here because Frampton was too scared to come to Spain," said Martinez. "I've come here to shut Frampton's mouth once and for all, he's talked too much and I hope that on Saturday he comes to fight and not to run.
"Frampton didn't want to leave Belfast for anything. I have always fought away and that shows that I am not a coward like they say I am. We're not scared to go anywhere and I never have been.
"They are trying to sell in Belfast something that doesn't exist - Carl Frampton is not a good boxer.
"He and his team know that I am a lot stronger than anyone he's met and you should all know that. I am not one of the bodies he's had to face. I am properly prepared mentally and physically with a champion's mentality, which is what I am."
However, Frampton hit back by claiming Martinez was struggling to make the super-bantamweight limit.
"He's struggling at the weight, he looks gaunt and that might be why he was a bit touchy and he said what he said, but talk is cheap and we'll see on Saturday if he can back it up," he said Frampton.
"I think he's a desperate man and he's trying to force me into a fight. I think he's underestimating how good I can fight up close - I can outfight him, I can outbox him, I can do whatever I want to win the fight.
"I'm predicting a win and maybe even a possible stoppage win, to be the first guy to stop him would be great."