Andy Lee returned to the ring with a laboured victory over Anthony Fitzgerald
Andy Lee started life under trainer Adam Booth with a laboured 10-round victory over Anthony Fitzgerald in Belfast.
Last Updated: 12/02/13 11:34am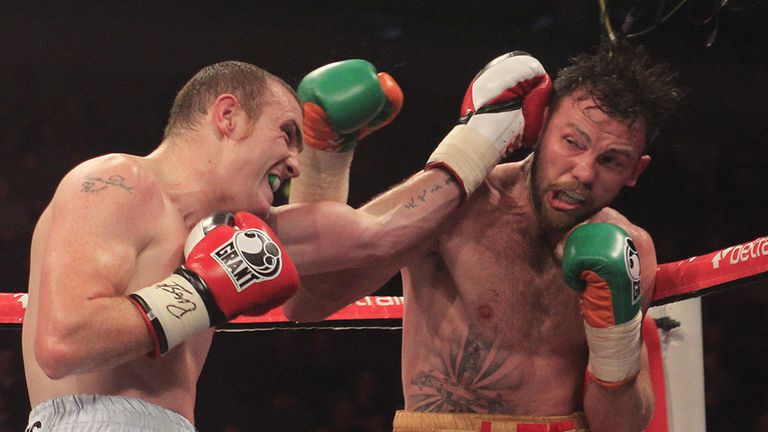 Lee, who chose rebuild his career in the UK following defeat to Julio Cesar Chavez Jr and the death of trainer and mentor Manny Steward last year, was forced onto the back foot for much of the fight by a game foe.
Fitzgerald came out aggressively but Lee was quickly showing why he is world class with the stylish upper cuts and counter right hands in evidence.
However, he seemed happy to allow his opponent to dictate the pace and Fitzgerald did not take a backward step, winning the third round after trapping Lee in the corner and unleashing a volley of shots, many of which got home.
It was clear that Fitzgerald had come to win and although Lee's cuter, quality punches were the more eye-catching the underdog was clearly in the fight at halfway.
Lee was unable to keep Fitzgerald off him as he marauded forward, and there was little spite in the Irishman's digs to the body as he began to look weary.
Superiority
Nonetheless, the last three rounds belonged to Lee, with Fitzgerald unable to maintain the pace and becoming easier to hit.
Lee was able to dictate the pace in the 10th with long left hands and although it was not the return he had been looking for, the referee's tally of 98-94 was a fair reflection of his superiority.
"It wasn't my best, but he was very spirited and you have to give him credit," Lee told Sky Sports.
"He was very determined. He came here, had great support and rose to the occasion.
"I boxed okay in spurts, I'll take something from it. It was my first time with Adam but there are no excuses, I'll keep moving forward.
"It's the sign of a man who reacts when he's down. I identified Adam Booth as the best trainer. I'm lucky enough that he will work with me, and we are working hard and trying to make improvements."
Another former world title challenger, Darren Barker, could be a future opponent for Lee in an exciting division.
"Barker...let's get it on," he added. "We have the same promoter. He's a good friend of mine, I know his dad really well. There's no bad blood there but we'd have a good fight."