Nathan Cleverly hopes to put a disappointing year behind him and kick on in 2013
WBO light-heavyweight champion Nathan Cleverly says he is beginning to regret his choice of degree subject.
Last Updated: 12/02/13 2:57pm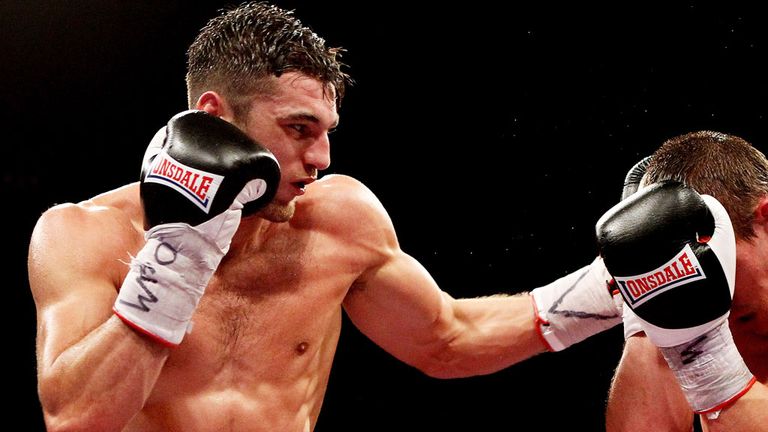 The 25-year-old is a mathematics graduate but admits a politics degree may have served him better as he attempts to build his career in boxing.
Cleverly has been linked with the likes of Bernard Hopkins, Chad Dawson, Beibut Shumenov and Tavoris Cloud but has so far failed to lure any of those fighters into the ring.
The Cefn Fforest fighter had just two bouts in 2012, against Tommy Karpency and Shawn Hawk, and he next faces mandatory challenger Robin Krasniqi in March before another possible defence against former champion Juergen Braehmer.
But once his next two fights are out of the way, Cleverly is hopeful he will get the chance to showcase his skills on a bigger stage.
Frustrating
"It's been frustrating," he said. "I could probably do with having a politics degree rather than mathematics.
"It's not always easy making these big fights because there are a lot of politics involved, not only getting the financial side of things right but also it comes down to whether these guys actually want to fight.
"Perhaps they don't want to get in the ring with a young, hungry fighter like myself.
"So the negotiations are a lot of work but I'm sure we'll get there. I just leave all the politics to my promoters to sort out and concentrate on training and turning up on fight night to win and do the business.
"Last year was frustrating because it was quiet and I only had two fights but now we can rebound off that and make 2013 a much better year.
"I want to be more active, have more fights and bit-by-bit push towards those big unification fights. At least last year I stayed undefeated, remained a world champion and this is a fresh start."