Adrien Broner retained his WBC lightweight title by beating Gavin Rees in Atlantic City
Adrien Broner said Gavin Rees was 'tougher than a steak well-done' after dismantling the Welshman inside five rounds.
By Adam Norman
Last Updated: 18/02/13 11:23am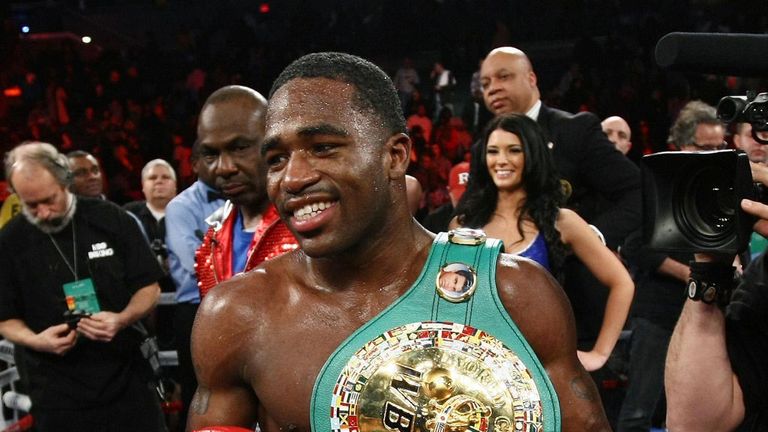 The American made a successful first defence of his WBC lightweight title after out-muscling the brave challenger, who got up from a fourth round knockdown to carry the fight to his younger opponent.
However, Broner's sheer size, allied with his dazzling hand-speed and devastating power, ensured the 'Rock' would not be returning home with the belt.
Rees began brightly, doubling up the jab with a hook as he out-worked the champion in the opening round, the Welshman's own speed proving he belonged with the highly-rated young American.
But there were already signs that Broner's lightning speed would become a problem, while the three inch difference in height also gave Rees a headache.
Broner upped his pace in the second, repeatedly catching Rees on the way in with short left hands, and although Rees was sticking to a gameplan of staying on the outside his shots appeared to have little effect.
The American coolly shook his head after many of Rees's forays into the danger zone and was barely out of second gear as he landed combinations that had the Welshman on the back foot.
The power in the blows were already having an effect by the end of the third - a stunned Rees taking a volley of head shots on the ropes - but it was the next round that changed the course of the fight, a right uppercut from knowhere sending the challenger to the canvas.
Punishment
Rees got up and fought back with credit, beckoning Broner to bring the fight once more, but the quality shots kept coming and the bell came to the challenger's rescue.
Trainer Gary Lockett implored his man to let him stop the fight before the fifth, but Rees was having none of it and bit down on his gumshield for another three minutes.
The round only got to the 2:59 mark though as, after more punishing blows including a body shot that saw Rees take another count, Lockett threw the towel in with referee Earl Brown more than happy to comply.
"That was a tough steak but I ate it," Broner said. "I knew he was going to come to fight. Tough world-class fighter. I had to see how much gas was in that little Toyota."
Rees said he would have never have quit but admitted Broner's power made life very difficult for him.
"I made a lot of mistakes," said Rees. "My skillset's a lot better than that so I'm disappointed in a way.
"He hits incredibly hard for a lightweight. I knew he was going to be powerful, but his power really stunned me.
"He was catching me with some great shots and the gameplan went out of the window. When you're stunned you don't think properly.
"I'm a warrior, I'm always going to get back up. I'd have carried on until he knocked me out cold."
Broner's ledger now reads 26-0 with 22 wins coming via stoppage, and few would question his credentials as a top-10 pound-for-pounder after another slick performance.