Tony Thompson says it may be best for sport to make drug-taking legal
Tony Thompson believes the only way to sort out drug-taking in sport is not to make it illegal.
Last Updated: 23/02/13 5:03pm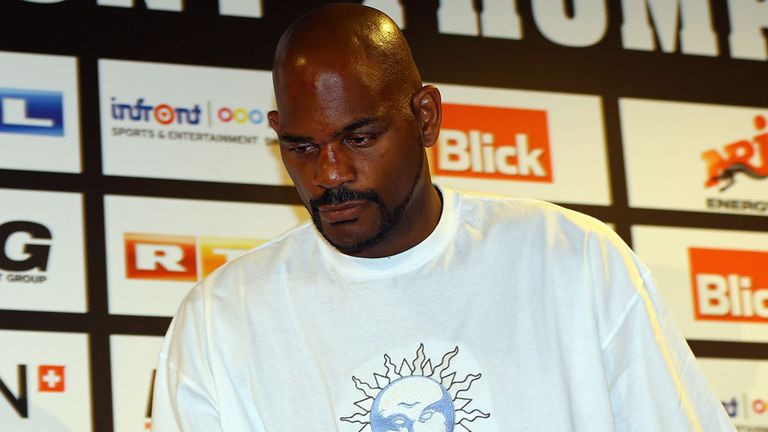 The American is in Great Britain to face David Price in Liverpool on Saturday evening and the 41-year-old says the only fair way of dealing with the problem is to allow sportsmen to take performance-enhancing drugs.
Speaking to the BBC, the heavyweight said: "I know this is going to be controversial for people but I think they should just allow doping, period.
"Because, to me, it's like the gun law. Only the good guys are listening, so it leaves the good guys without the guns.
"So you just allow everybody. It's an issue of choice. I would never want to be doing anything to alter my body down the road anyway."
And he says that if drugs in sport became a free-for-all, it might even make it more spectacular.
He went on: "Sports is what it is - it's entertainment.
"You go to the movies to be entertained. You watch sports and you ask to be entertained and we want our athletes to be the biggest and the baddest they can be - regardless of how level the playing field is.
"All of the money that we're using to catch cheats should be used for other things.
"You've got to leave it up to athletes. It's a person's choice, such as abortion and other things we don't agree with."
British Boxing Board of Control secretary Robert Smith admitted he was 'sickened' by Thompson's comments.
"It's mindblowing that a fighter who has challenged twice for the world title can come out with something like this," he said.
"I felt sickened, to be honest, when I heard the comments.
"I'm sure everyone would expect him to be tested now, whether he himself is clean or not, before and after the fight."