A Rose in bloom
With the current climate making life difficult for boxers and promoters alike, Steve Wood believes the time has come for British champion to prove his worth on the international stage under Matchroom Promotions.
Last Updated: 17/04/13 8:35pm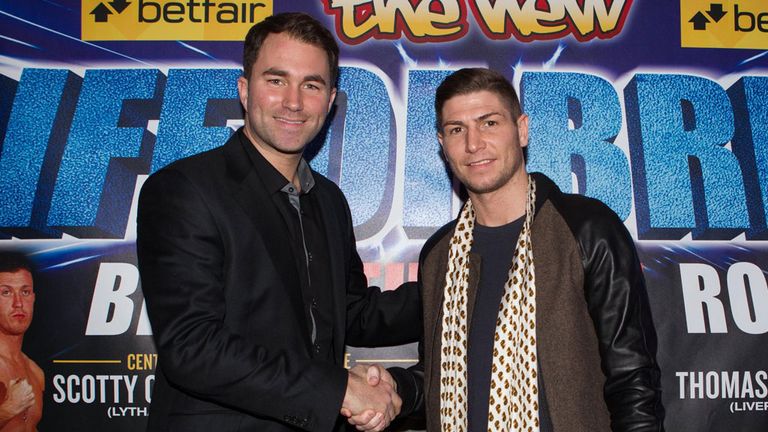 Steve Wood believes fans can expect to see a new and improved Brian Rose after the British light-middleweight champion signed with Matchroom.
Wood, as manager and promoter, has skilfully guided Rose back from the sole defeat of his career against Max Maxwell almost three years ago.
But with a Lonsdale Belt now in safe keeping, the Blackpool 'Lion' can now look to move his career to the next level under the promotion of Eddie Hearn.
Wood has little doubt that the time is right for Rose to prove himself on the international stage after overcoming the struggles that come with the territory.
Rose avenged the Maxwell loss on Sky Sports but with Sky choosing to use Matchroom as their sole promoter last year, Rose had to do his own donkey work.
"We've had to do it all ourselves and work really hard without a TV deal," Wood told Sky Sports after the news that Rose would fight former world champion Joachim Alcine in Blackpool on April 20.
"But we've done what we wanted to do getting his name out on the world scene by beating Vivian Harris and beating Sam Webb, which is probably the hardest fight he's had.
"On the back of that we've managed to hook up with Sky and Eddie Hearn and in effect we've gone backwards to go forwards, and now Eddie can test where's at, at a higher level."
Pressures
Rose's battling qualities shone through in his fight with Webb in December, a win that secured him the Lonsdale Belt.
"I always thought Brian was going to win, I don't think he was ever going to knock him out, Sam's a good, tough fighter," added Wood.
"There were pressures to win the Lonsdale Belt, if he'd lost he'd never have got a deal with Sky, so he handled the pressure and what he learned will help him in the fight coming up.
"Unfortunately when he lost the TV deal he had to co-promote the show with me as I couldn't guarantee him x-amount of money. Brian took a gamble in winning the purse bid and we put the show on ourselves. The extra pressure was unfortunate but something we had to do.
"I'm sure it effected him outside the ring and he looked a bit tired in the last couple of rounds, maybe he'd overtrained or the pressure was too much, but it's part of the learning curve.
"I'm sure you'll see a better Brian Rose from now on, you can see it in his face and the way he's strutting around that this is where he wants to be."
With Eddie Hearn and Frank Warren stealing the headlines of late, Wood admitted the current climate is not an easy one for fighters or their promoters.
"Things are tough and you have to sit down with your boxers and explain that," he said. "It's difficult to keep them fighting six times a year like we used to. If I can co-promote with others for a couple of fights that's a bonus.
"The more tickets they sell the more fights they'll have. As long you're helping to put something into a show they'll willingly put you on.
"We've all got to help each other out because it is hard. On the non-TV side there shouldn't be a problem with working with other promoters.
"But at the minute it's a question of who's out there to pay for these fights. If Eddie's got any room left on the ship at Sky we'll ask if we can jump on, but at the moment we're sailing along as we are."
Confidence
Hearn himself is a big believer in Rose and thinks he has what it takes to make it to the top.
"The fact that he is willing and ready to have big fights has got me excited," he told Sky Sports. "I think he'll develop as a fighter with the confidence he gets being back on Sky.
"It will bring him out of himself. We've got a big presence in Liverpool just down the road, we've got a lot of dates to fill and I want to give fans different fights, not just arena shows with the same names.
"Brian has been nowhere near Alcine's level - he's only been beaten by three world class fighters - so that's the kind of level he's operating at.
"Sergey Rabchenko is the European champion and I think Rabchenko against Brian is a great fight. He's got a fight coming up but longer term we've no plans to go one route or another, and the WBA could potentially by the easiest route for Brian Rose.
"(But) It's really about the fights, not the titles, and this is the perfect fight for him at the moment. It's the breakout fight and if Brian beats him well then all of a sudden people might believe he is at world level. He's a former world champion and he's not shot by any means."