Eddie Hearn calm despite threat of legal action from Frank Warren over Ricky Burns
Eddie Hearn says the threat of legal action from Frank Warren will not disrupt Ricky Burns' Matchroom debut on 11 May.
Last Updated: 11/03/13 5:29pm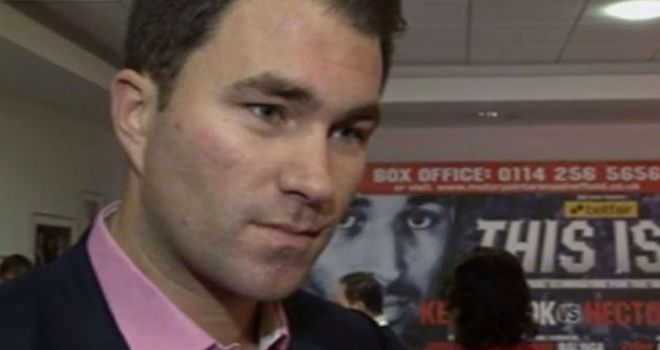 WBO lightweight champion Burns has signed for Hearn's stable after ending an agreement with his former promoter.
Warren plans to sue Burns for "substantial damages" and maintains the Scot is still under contract to take on IBF title-holder Miguel Vazquez in a delayed unification fight on 20 April at Wembley Arena.
But Hearn, who took former Warren fighter George Groves last week and plans to announce another major signing on Wednesday, says any legal issues are between Warren and Burns and present no obstacle to the May date.
He told Sky Sports News: "There is no contract now. Ricky Burns has terminated that agreement, and it's up to those two.
"If Frank Warren believes Ricky's terminated that agreement wrongly, no doubt they'll meet each other in a court of law, but having seen that letter of termination I'd be very comfortable if I was Ricky Burns.
"We're very comfortable. I expect it, but it's just something we'll get on with and there'll be no issue with the 11 May fight.
"We're a big organisation, we've taken our advice from our lawyers and we're very comfortable. We're looking forward to the future."
Momentum
The future for the new signing is likely to involve three fights by the end of the year and Hearn hopes one of those will be a date with Adrien Broner, the WBC champion who recently destroyed Matchroom's Gavin Rees.
Broner's next fight could be for Paulie Malignaggi's WBA welterweight belt, but he remains on the radar for Hearn, who said: "I'd like Ricky Burns to go into a fight like that with a huge amount of momentum and confidence, and having his head right."
In the meantime Hearn has promised "another major announcement on Wednesday" while again playing down his rivalry with Warren.
He said: "People keep asking me about that, but for me it's about delivering for our fighters, the fans and broadcasters.
"I don't go to work every day thinking I've got to get one over on Frank Warren. He's a rival, of course, but we're doing our thing and he'll do his."