Derry Mathews is proud to represent Liverpool when he takes on Anthony Crolla
Derry Mathews said he is proud to be part of a resurgence in boxing in Liverpool ahead of his fight with Anthony Crolla.
Last Updated: 19/03/13 2:55pm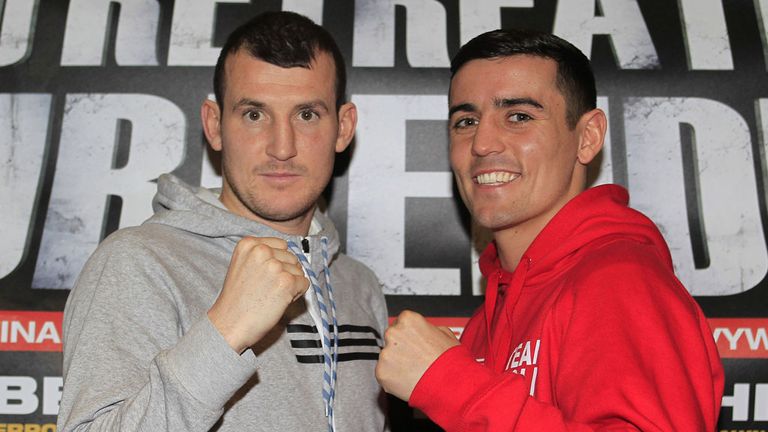 Mathews and Crolla will clash at the Echo Arena for the Commonwealth title almost a year after the Liverpudlian beat Crolla in his own back yard to bag the British belt.
And with Liverpool's pugilists currently riding the crest of a wave Mathews is hoping to cash in.
"I would say Liverpool is the city to be fighting from now," said Mathews. "It goes in circles and I am lucky to have been around long enough for it to come around twice.
"You only need to look at Manchester in its prime; Ricky Hatton, Anthony Farnell, Michael Gomez, Stevie Bell, Michael Brodie and Matthew Macklin was fighting out of Manchester.
"Now it has changed. We have Tony Bellew, David Price, me, Jazza Dickens, the Smith brothers, and Thomas Stalker has turned over - it's all happening in Liverpool and it's brilliant to be a big part of that."
Mathews vs Crolla II provides chief support as Tony Bellew takes on Isaac Chilemba in a WBC title eliminator, and 'Dirty Derry' is looking forward to fighting in front of a big, local crowd.
Reception
"Everybody says that when the bell goes you are on your own and that is right," he added. "I like to fight away but this time I am at home and I think it will be a massive boost.
"I have boxed at the Echo Arena once before and I was beaten by a very bad decision so I want to make that right. I am really looking forward to it, it's the best boxing show Liverpool has had and hopefully I'll get a really good reception and they give Anthony a terrible time like I got in Lancashire."
However, Crolla believes he will give Mathews a dose of his own medicine.
"I would be lying if I said revenge wasn't on my mind, there would be nothing sweeter than beating Derry," said Crolla. "I am not getting hung up on the fight too much, I have watched it countless times and I will probably have watched it another hundred times by the time the fight comes.
"I know that fight well and I know what mistakes I made and I know what I have to correct.
"I won't get the best reception on the night but that is something I am going to thrive off and am going to bring great support with me.
"The amount of people who have come to me for tickets has been unreal; I have been taken back by it all. A lot of my best performances have been in my opponents' back yard and this will be another one of those I hope."