Tony Bellew is "willing to die" in ring when facing Isaac Chilemba in Saturday's light-heavyweight eliminator
Tony Bellew is "willing to die" in the ring when facing Isaac Chilemba in Saturday's light-heavyweight eliminator.
Last Updated: 30/03/13 11:09am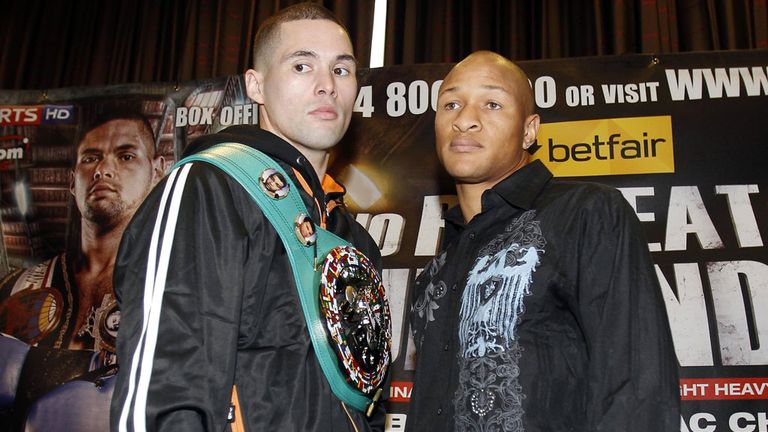 A capacity Echo Arena will witness a final showdown between home favourite Bellew and Malawi's South African-based Chilemba, live on Sky Sports, for the right to face the World Boxing Council's champion Chad Dawson.
Chilemba, with just one defeat as well as impressively picking himself off the canvas twice in a courageous points win over Maxim Vlasov in 2011, is rated an extremely dangerous opponent.
Bellew memorably overcame two knockdowns in his first victory over Ovill McKenzie in 2010 and has a solitary defeat to WBO champion Welshman Nathan Cleverly in October 2011 to blot his perfect record in 20 (W19, KO12) fights.
The Liverpudlian, when asked about Saturday's opponent, said: "It's fight week and I'm sick of talking. I don't care, I'm past caring now at the end of the day I'm going to get in the ring and do him damage, it's as simple as that.
"People have heard me say this before. I'm not bothered, this fame-renowned trainer. I don't care who trains him, he's got to fight me, he's going to understand he's in the ring with someone bigger than him, stronger than him.
"He might have a little bit of speed on me (but) I'm going to make him pay for every single mistake he makes on Saturday night. I'm taking and keeping this title, it's as simple as that. This belt's mine. it's not going nowhere, he's in for a night of pain. I'm willing to do anything, go to any level. Come Saturday night I'm willing to die in that ring, if so, be it. I'll do anything to win and that's the level it's going.
"I don't underestimate him, if anything I overestimate him. I know how good he is, he's fast, he's probably the most rounded boxer I've ever faced. He's got good defence, good speed, reasonable power, He's young, he can get off the floor to win, He ticks a lot of boxes.
"(But) It's one thing watching me on tape, it's another thing getting in the ring and fighting me. Come Saturday night, people are going to see that and he's going to feel it more importantly.
"You have to evolve as a fighter. If all you can do is attack and go for, at some point you're going to get knocked out because show me a fighter who's consistently, constantly a pressure fighter and then show me an unbeaten one? There's never been one. So, you know, it doesn't happen.
"You've got to be able to do various thing in a boxing ring, whether it's box on the back foot, work off a jab, attack, brawl or fight. You've got to be able to do many different things and I feel I can do all those things.
"Slowly but surely it's come together. Saturday night, it's a massive fight, massive opportunity. You know, I've come to far to pass it up now. I've been very active in the last 12 months. This is my fourth fight in 12 months, they'll all 12 round fights, so come Saturday night it's back to business. It's back to work and Isaac Chilemba is in a world of trouble."
Bellew admitted he had WBC champ Dawson in his sights and added: "This (win) would make me an interim champion, if you like (but) I'm hellbent on becoming a world champion.
"I targeted the WBC because when we sat down with Eddie (promoter Hearn) at the start we said who's the best heavyweight in the world? We knew who it was, it was Chad Dawson so we targeted the WBC title.
"I always knew Dawson was the best. No one can say if I lift the WBC title and I beat Chad Dawson, nobody can question who the best light-heavyweight in the world is, it will be me. If I win the IBF or WBA people will say 'you know he's not the best, he might be world champion but not the best.' (But) If you win the WBC title, that green belt, you are the best light-heavyweight in the world, simple as that. I'm halfway there. I'm not happy till I get all the way there."
Johannesburg-based Chilemba, who has only fought in the United States or South Africa, was undeterred though and said: "All my life I've fought on other people's soil, so this is no different to any other fight I've had. All I have now is to look forward to the fight."
Asked whether Bellew would feel any extra pressure being cheered on by 7,000 home fans, the 25-yearold added: "Probably, I think I would feel the same in Malawi and having all the people around me, people who believe I could do and expect the best out of me.
"I think I would be under pressure because I don't want to disappoint the people. As much as anyone else and Tony would think I would feel under pressure, he's the one under pressure here (in Liverpool)."
Follow all the action live and interactive on skysports.com from 6pm on Saturday, or watch live boxing on the red button from 7pm.