Amir Khan hopes to be last man standing in light-welterweight tournament
Amir Khan hopes to be confirmed as the best light-welterweight in the world by the end of the year.
Last Updated: 28/03/13 8:17am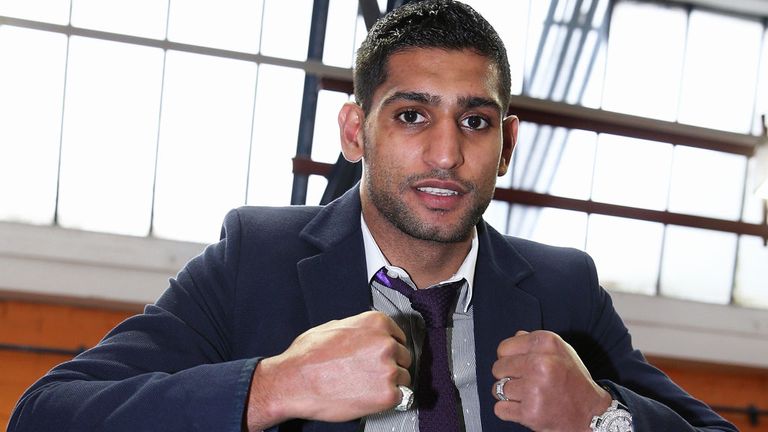 Khan's dominant win over Carlos Molina in December put his career firmly back on track and he will set up another world title shot with a win over Julio Diaz in Sheffield on April 27.
The Bolton fighter has revealed that his promoters Golden Boy have planned a tournament involving his 140lb rivals Danny Garcia, Lamont Peterson, Lucas Matthysse and Zab Judah.
Danny Garcia takes on Zab Judah next month and Matthysse is set to face Judah in April, with the winners then battling each other for the right to fight Khan.
Defeats by Garcia and Peterson have relieved Khan of his world titles, but he could be two wins away from securing his status as the top man in the division.
Khan told Ringside Toe 2 Toe podcast: "Golden Boy said they are going to do a mini tournament. It's going to be between Garcia-Judah, the winner fights the winner of Matthysse and Peterson, and at the end of the year the winner of that fights me.
"The reason they fight me at the end of it is because I can't fight in the middle because I've got Ramadan, I'm going to be fasting. It's a religious month for us, so I'm going to take time off there.
"When you take time off fasting for a month, you need another month to recover from that.
"Hopefully we'll know by the end of the year who the best 140lb fighter is and that's going to be between the five of us. The five top names out there and we will all know who the best is at the end of the year.
"I want to get past Julio Diaz, who I can't take my eye off, because Julio Diaz is another dangerous opponent for me."
Garcia puts his WBC and WBA belts on the line against Judah, while Peterson defends his IBF strap against Matthysse and Khan expects his two conquerors to pick up wins.
"Even though I think a lot of people are going to say Matthysse is going to walk through him, I don't think that will happen," he said. "Matthysse is a heavy puncher, but a good boxer will beat him just like when Zab Judah fought Matthysse. He boxed him and he won the fight, but it was a close fight.
"I think Peterson will stay behind the jab and he'll keep boxing him and not get involved, especially when Matthysse will try throwing those looping shots.
"I think Peterson will stay nice and tucked up. I think Peterseon might just take that fight but it's going to be an exciting fight.
"Then on the other hand you've got another fight between Garcia and Judah which is going to be another big one. I think Judah is probably past it now, but maybe for three or four rounds he will be good to watch. But after that I think Garcia will probably pick up and beat him."