Anthony Crolla is confident he will gain revenge against Derry Mathews on Saturday
Anthony Crolla is intent on revenge ahead of his long-awaited re-match with Derry Mathews at the Liverpool Echo Arena.
Last Updated: 27/03/13 8:47pm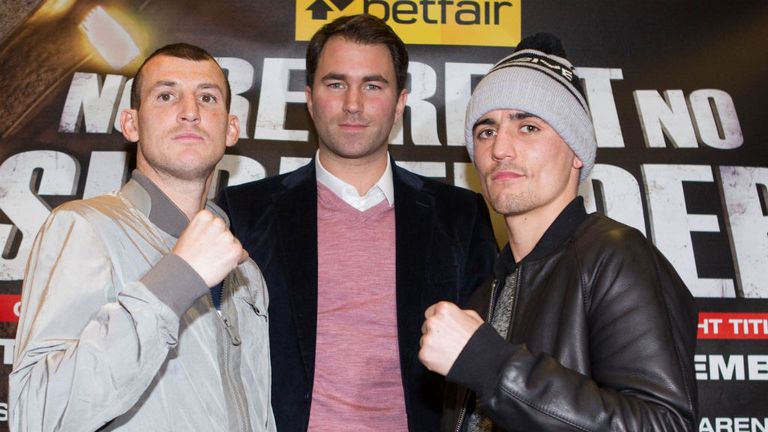 Mathews ripped the British lightweight title from the Mancunian last year and the Commonwealth title is now on the line as the Liverpudlian takes his turn to fight on home soil.
But Crolla impressed in beating Kieran Farrell last time out and is confident he can turn the tables.
"Derry caught me with a belting shot and to be honest I never recovered," Crolla told Sky Sports. "He fought a great fight and pulled off a great win that night.
"Of course it's a question of revenge - any fighter who beats you, you want the chance to get in there and beat them.
"Derry's expecting a better me and I'm expecting a better Derry Mathews. I'm just expecting a different result.
"I'm bringing great support from Manchester but I'm under no illusions - I won't get the best reception, but that's just part of it and Liverpool will get behind Derry."
Mathews knows Crolla will be hungrier than ever but the Liverpudlian is also in great shape after a camp that has seen him train in New York.
"No matter what Anthony brings I'll have to bring something better. I've had longer to prepare this time - 12 weeks instead of six - and better sparring so I'm ready for whatever.
"It's an honour to fight Anthony in Liverpool and the fans will be the winner on Saturday night."
Follow all the action live and interactive on skysports.com from 6pm on Saturday, or watch live boxing on the red button from 7pm.