Brandon Rios believes he will move on after beating Mike Alvarado for a second time
Brandon Rios believes a second victory over Mike Alvarado this weekend will take him to a new level.
Last Updated: 27/03/13 8:54pm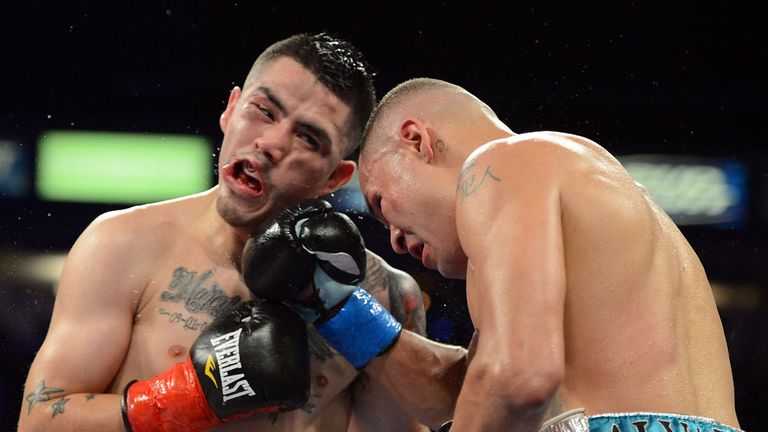 The pair clash again at the Mandalay Bay in Las Vegas just six months after their first meeting which Rios won by stoppage after seven enthralling rounds in Carson, California.
Rios' victory underlined the fact that his decision to move up from the lightweight limit, where he had made three defences of the WBA world crown, in search of bigger fights was the right one.
And he is convinced it is now his time to start making some major headlines at the expense of Denver native Alvarado, who suffered his first defeat in 34 fights at the hands of Rios, but who also emerged with aplomb.
"It's never too late to do it again. We are warriors and if you are a warrior you want again and again," he said. "The first fight between us was great, I feel great and I am ready for another battle.
"We have the same type of style. We both go out to fight each other. We try to get the job done the only way we know how. That's the mentality that comes out of both of us. We are there to give the fans what they want."
Rios developed a reputation as a sharp and accurate puncher during his rise through the ranks before he won his first world title with a 10th round stoppage of Miguel Acosta in February 2011.
Follow-up stoppages over Urbano Antillon and Manchester's John Murray preceded a tough split decision win over Richar Abril, a close shave that convinced Rios the time was right to move up.
"I had to get out of the lightweight division," admitted Rios. "I couldn't make the weight any more. I was a big 135 the whole time and it really caught up with me. I had thought moving up would give me more power and that's what happened.
"I had power at 135 and I have power at 140. Now I don't have to make those last five pounds and I don't have to dehydrate myself. So I feel very strong and the power is going to be there even more this time."