Promoter is taking Derry Mathews in pursuit of the Commonwealth title
Derry Mathews' promoter said the Liverpudlian will be pursuing the Commonwealth title after drawing with Anthony Crolla.
By Adam Norman
Last Updated: 03/04/13 10:55am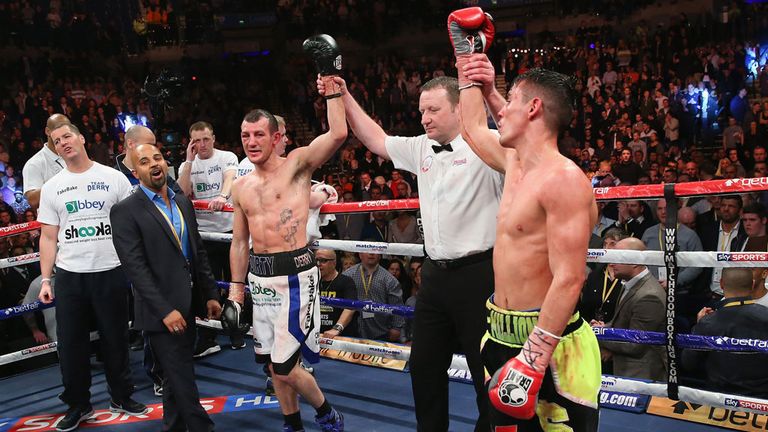 The pair could not be split at the weekend in the re-match of their clash last year, in which Mathews stopped his opponent to win the British title.
And despite inevitable calls for a third installment, Dave Coldwell said the belt - which remains vacant after the draw in Liverpool - is the short-term goal.
"We'll see if Crolla wants the re-match, I don't know what they want to do," Coldwell told Sky Sports.
"Derry wants the Commonwealth title and whether it's against Crolla or anybody else that's what we're going to be aiming for.
"I'd love to put a trilogy fight top of a bill in Liverpool, but I'm not sure there's anywhere suitable. Maybe the Olympia, I don't know. But it's the Commonwealth we'll be after."
Skills
Mathews clearly held the edge in the first half of Saturday's enthralling clash, with Crolla's boxing skills enabling him to earn a share of the spoils.
"It was another great fight, they were class out of the ring and class in it," Coldwell added. "It was a bit different this time, not all out war, it was more tactical warfare.
"I thought Derry was comfortably in front, but then with a mixture of Derry taking his foot off the gas and Anthony stepping up he got right back into it.
"At the end I had Derry maybe only a round up, but a draw was probably the fairest result. It was a close fight, and when they're that close you can't claim robbery."
Mathews gave a clue as to his future plans on Tuesday by Tweeting: "Just watched fight again I honestly still have me winning it Anthony didn't seem to do anything till after 8 rounds.
"Been thinking is there any point in me haven another fight he's had 2 chances to beat me and failed I might go another direction."