Floyd Mayweather says he will take the fight to Robert Guerrero on May 4
Floyd Mayweather has vowed to thrill the fans in his upcoming fight with Robert Guerrero in Las Vegas on May 4.
Last Updated: 09/04/13 2:16pm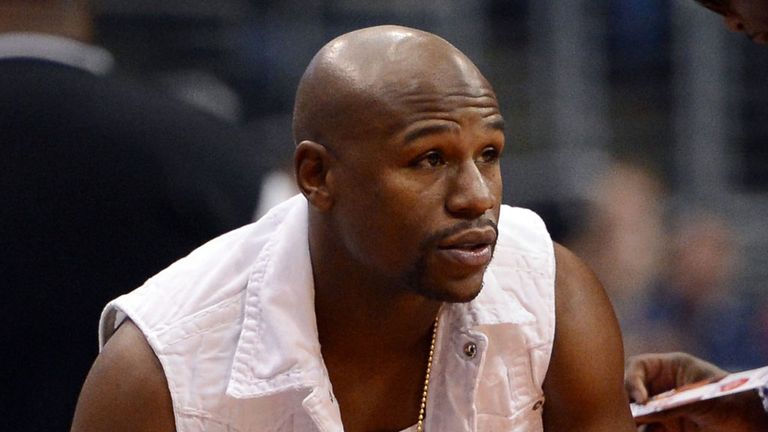 'Money' has been accused of being over-cautious in many of his fights down the years, however his last fight against Miguel Coto proved he is willing to stand and trade as well as use his boxing skills.
At 36, Mayweather is reaching the twilight of his career but against Guerrero he believes he is ready deliver one of his greatest performances.
"I have been off for a year now, so I am looking forward to getting back in the ring," he said. "Less than a month away, so I am excited.
"Robert Guerrero is a tough fighter, a solid, busy fighter. He only has one loss, a champion in multiple weight classes. Let's see what he can do in there. I am sure he is going to be able to make adjustments in that squared circle just like I can, so we will have to see what happens on May 4th.
"We will have to see how the fight plays out. I just want the fans to tune in. It's going to be an action-packed fight on May 4th. I am willing to do whatever it takes to get the victory. If I have to mix it up or box. I am going to bring it.
"He did something right to get here. I am sure he is going to be on his 'A' game, but I am not really worried about what he can do. He needs to worry about what I can do because I have already proven what I can do in the ring."
Tremendous
And Mayweather is working as hard as ever to ensure his undefeated record, now stretching to 43-0, will continue.
"I am very appreciative of what boxing has done for me and I am glad to have given back so much to the sport too. I always wanted to be the best and I think I have proven that over the course of my career.
"I have been pushing myself in training camp. I think my body is going to look tremendous for this fight. I can't say how my performance is going to be, but of course I am going to go out there and perform. I always am at my best.
"On May 4th I am going to go out there, be ready and hopefully he is ready too. This is the longest I have trained for any fight, so it should be a great night.
"I am going to dish it out against Robert Guerrero on this one. I am going to be the Mayweather that is active. I have young guys who are really pushing me in the gym for this fight.
"Sure I have bad days in the gym, but I don't have bad fight nights, bad paydays."