Matthew Macklin will forget about Darren Barker fight if he takes world title from Gennady Golovkin
Matthew Macklin admits he will not face Darren Barker in the near future if he defeats WBA champion Gennady Golovkin.
Last Updated: 15/04/13 6:03pm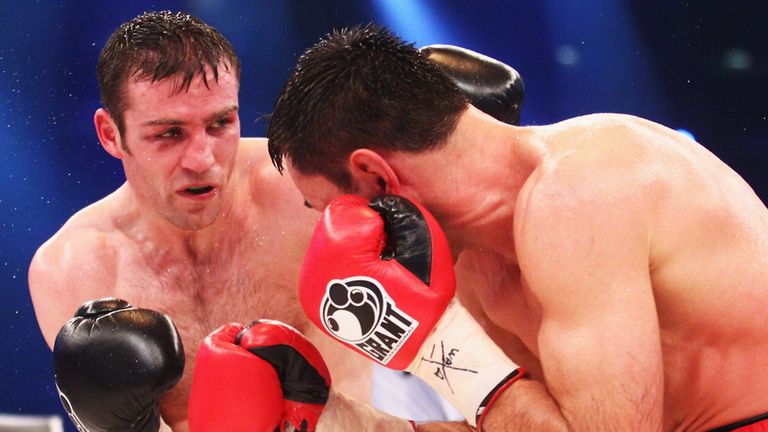 Macklin will have his third shot at a middleweight world title when he takes on the big-punching Golovkin in Connecticut on June 29.
Barker and Martin Murray, who challenges WBC king Sergio Martinez this month, have both expressed a desire to fight Macklin in a bid to decide the No 1 in the domestic division.
But Macklin has been pursuing big names in America after linking up with New York promoter Lou Di Bella and will put back plans for a Barker showdown if he defeats Golovkin.
"If you want to be on the big fights they're in America. I'm one of the best middleweights in the world, I want to beat the best, fighting Gennady Golovkin," he told fightnews.com.
"Me beating him will throw me straight back into a rematch with Sergio Martinez. I know the next time if I were to fight Sergio, I'd beat him.
"There's been some talk with Darren Barker but once I beat Gennady Golovkin, I'll be looking at a rematch with Sergio Martinez or maybe a defence against (Julio Cesar) Chavez (Jr.), (Miguel) Cotto if he wants to step up to 160, they're the fights that I want to be involved in.
"The other fights are great fights domestically, but they're just not big fights in America and this is where it's at."
Macklin suffered a contentious points defeat to former WBA champion Felix Sturm in 2011, while he was halted by Martinez in the 11th round last March, but he is determined to seize his latest chance.
"It's my third challenge for the middleweight title in four fights and it's definitely going to be third time lucky," he said.
"I got robbed against Sturm and I gave Martinez a great fight, but you know Martinez is a very awkward fighter.
"It was my first fight back with (trainer) Buddy McGirt and I hadn't worked with him in years. The last camp against (Joachim) Alcine we picked up from the Martinez fight and we made the adjustments."