Joachim Alcine is confident he can silence the Blackpool crowd on Saturday
Joachim Alcine has dismissed his first round loss to Matthew Macklin and is ready to upset Brian Rose in Blackpool..
Last Updated: 20/04/13 8:40pm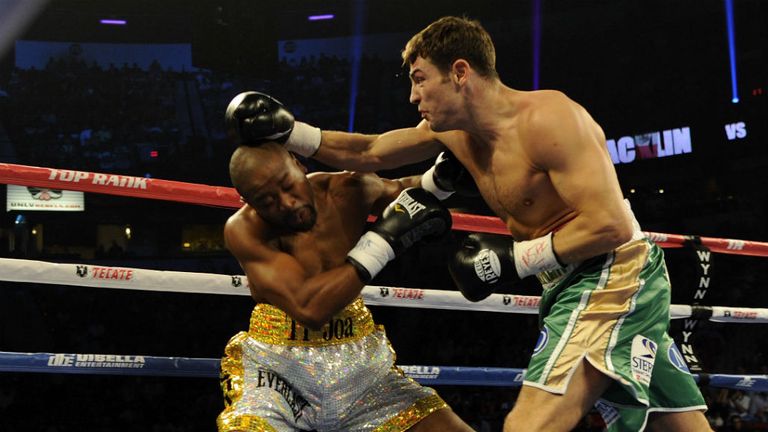 Rose takes his first venture out of domestic class when he takes on the Canada-based 37-year-old for the WBO Inter-Continental light middleweight title.
And while new promoter Eddie Hearn believes Alcine to be the perfect opponent for the reigning British champion at this stage of his career, Alcine has other ideas.
He has fought just that one round against middleweight Macklin in almost 18 months but will look to take his frustrations out on his opponent this weekend.
"Everything happens for a reason," he said. "I thank god (the fight was stopped) because Macklin is a big guy. I didn't want that fight to happen at 160lb but after nine months without a fight you take anything they put in front of you.
"I paid the price for it, but now I'm back at 154 and that's where I belong, although I can fight at 147 too. After this fight I could do either but I'm very strong at 154."
He has not studied videos of Rose in his preparations for the fight but revealed he never used to worry about the opposition when he was on the road to becoming an unbeaten world champion back in 2007.
"I don't know anything about Brian - my coach says he comes to fight and hat's enough for me," he added. "It's all about adjustment. When I watch too much tape I confuse myself, and I don't want to make that mistake again.
"Before I became champion I never took time to watch tape, so I just want to do things the same way, go in the gym and train for the fight. I can adjust to anyone and I have trust in my coach.
"I believe Saturday is going to be a good night for me and I know I will become champion again."