Maxi Hughes is confident he can upset the odds and beat Scott Cardle in Blackpool
Maxi Hughes is looking to make the most of his opportunity when he takes on Scotty Cardle in Blackpool.
By Adam Norman
Last Updated: 20/04/13 8:41pm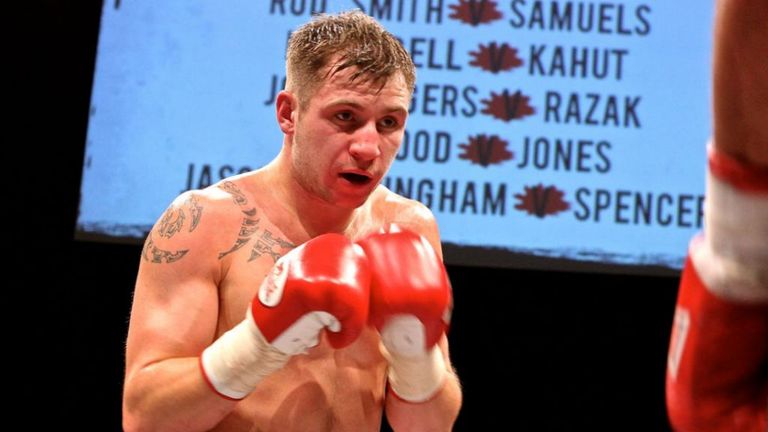 The Yorkshire lightweight takes on the Matchroom prospect for the Central Area title and will enter the fight as an underdog against a man groomed for the top.
However, Hughes is in no mood to give up his unbeaten record, with the only blemish on a nine-fight ledger being a draw against the undefeated Ronnie Clark when he suffered a bad cut from a clash of heads.
"I'm really glad I had that draw against Clark, I learned so much from it and had to dig really deep after the cut," he told Sky Sports. "It was a gut check and will stand me in good stead for Saturday.
"I've followed Scott's career, I've seen his fights on TV, he's a talent and I'm grateful for the opportunity and excited to be fighting him, but of course I see him as beatable and feel I've got what it takes to beat him.
"Fighting away from home doesn't bother me at all. You blank it out, but there's no pressure on me and it's his homecoming, it's all on him to put on the show for his fans.
"I want to be the best, I want to get to the top of the British rankings so I've got to be fighting the likes of Cardle and stay at this level.
"If you want to get anywhere these are the type of people you want to box. It's a win-win situation for both of us. Whoever loses it's not going to do their career any harm.
"Fighting on Sky is a bonus and I'm excited to be getting the exposure, I've got some new shorts so it's all good!
"But I'll stay focused on the job in hand and with the adrenalin and nerves I'll only have boxing on my mind.
"I've trained really hard for this fight and with it being on Sky I've had extra motivation. I'm lucky that I'm able to take time off from my job as a painter and decorator but you never know if I win this fight I might not have to go back to work!"
Watch Scott Cardle vs Maxi Hughes live on Sky Sports 1 HD from 8pm in Blackpool on Saturday night.