Trainer Joe Gallagher is confident Scott Cardle can get past Maxi Hughes
Joe Gallagher is confident Scott Cardle will come through his toughest test as a pro when he takes on Maxi Hughes.
By Adam Norman
Last Updated: 20/04/13 8:33pm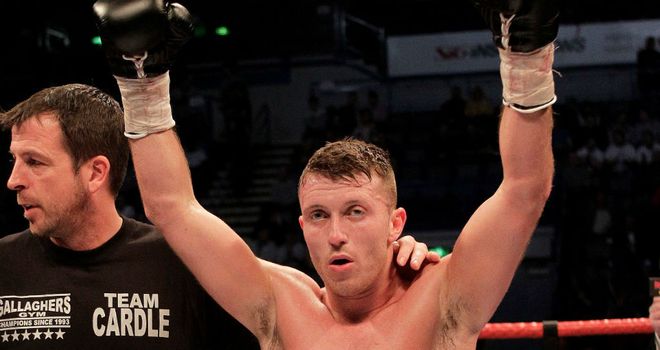 The former top amateur has been kept busy by promoter Eddie Hearn since he joined the paid ranks just over a year ago, winning all 10 of his fights.
However, in Yorkshire's Hughes Cardle will need to be better than ever to retain his unbeaten record and win the vacant Central Area lightweight title.
But his trainer is confident Cardle has the tools to come through in front of his home town fans at the Winter Gardens.
"They've done a fantastic job with him, they've kept him busy and active," Gallagher told Sky Sports. "The top GB kids are used to fighting the top kids all over the world, so getting through those first six or so fights as a pro so quickly is a blessing.
"He's stepped up another 20 percent in training for this, it's his first title shot and we'll see how it goes.
"Scott is desperate to prove to people he's got the ability but first and foremost is to get the win. He's up against another unbeaten kid but I think the difference is Maxi Hughes (8-0-1) has only gone in with guy with a winning record once, and that fight was a draw.
"Scott's last four opponents have all had winning records. That's not to say we should walk straight through Hughes, he's an accomplished amateur and a good southpaw fighter. We've got to get the win and being impressive doing it would be a bonus.
"Not many people get the chance to win their first title in front of their home crowd and I think the key on Saturday night will be keeping a cool head in a hot atmosphere.
"There's a lot more to Scott Cardle. He's having a good apprenticeship sparring in the gym with the likes of Anthony Crolla, we've done our bit in the gym and when the bell goes it's up to Scott to deliver. If he listens and sticks to the gameplan he will win.
"Maxi has sold a lot of tickets and Scott has got loads of fans so it's going to be a great night."
Stepping Stone
However, Hughes' promoter Dave Coldwell believes his fighter has what it takes to cause an upset in Blackpool.
"I'm excited - I'm all for giving them half a dozen or so fights and then letting them go a little bit and develop them," he said.
"You've got to put them in competitive fights to bring them on and I rate Scott massively and he's a nice kid as well.
"It's a stepping stone title for these two but it's the right fight for Maxi and let's face it, Scotty's a great prospect but he's not looked a million dollars. So who are you going to fight - this is what it's all about.
"Everyone knows who Scotty is because he's been on Sky a lot. Not many people know who Maxi is and they'll get a chance to see him on Saturday night. The exposure is great but if he can go in there and do what I think he can, I believe he can pull off what is deemed as a shock.
"It's a proper good fight and both will benefit from it. If he doesn't win it's not the end of the world, he'll still be well promoted and if it's a good fight you never know they might meet for the British title further down the line."
Watch Scott Cardle vs Maxi Hughes live on Sky Sports 1 HD from 8pm on Saturday night.