Lee Selby retained his Commonwealth title with victory over Corey McConnell
Lee Selby retained his Commonwealth featherweight title with a fifth-round stoppage victory over Corey McConnell.
Last Updated: 21/04/13 12:24am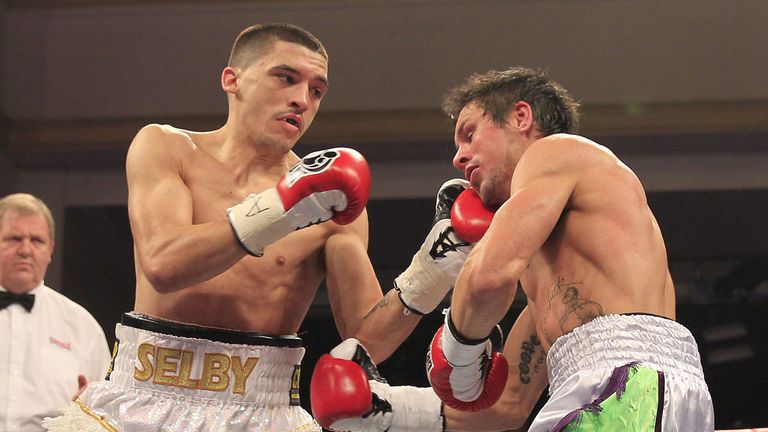 Promoter Eddie Hearn has been singing the praises of the Barry banger and he proved levels above his opponent on his debut for Matchroom.
McConnell came out with bad intentions and threw fast hands from the start, but Selby kept his composure and quickly had the job in hand.
The weight of Selby's shots were clearly having their affect as early as the second round but McConnell continued to fire back.
However, Selby dropped his opponent late in the third with a sweet left to the body and although he made it to the bell McConnell was on borrowed time.
The Australian was trapped in the corner in the fourth round as Selby unloaded but proved his durability by hearing the bell once more.
But his courage could only take him so far and after Selby unloaded another barrage of punches the towel, somewhat belatedly, came in at one minute and 16 seconds of the fifth.
The talented Welshman, who also holds the British title, will surely move on to bigger things before too long.
On another stacked undercard, Matty Askin took the English cruiserweight title from China Clarke with a unanimous points victory.
The challenger gradually got on top in a fight that failed to ignite, with a seventh-round knockdown the highlight of a disappointing contest.
However, there is little doubt that Askin can go on from this and challenge current British champion Jon-Lewis Dickinson, to whom he lost exactly a year ago.
There were also wins for former crack amateurs Callum Smith - who enjoyed another first round stoppage win - and Tom Stalker, who won his third successive fight in the paid ranks on points.