Tyson Fury survives early knockdown to stop Steve Cunningham in seven rounds
Tyson Fury survived a huge early scare to record a seventh-round stoppage victory over American Steve Cunningham.
By Mark Kendall - Twitter: @SkySportsMK
Last Updated: 21/04/13 4:04pm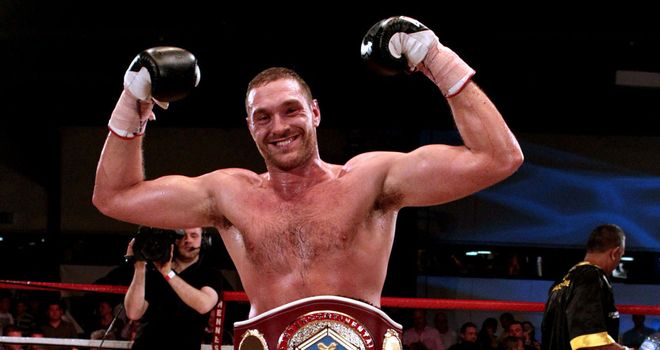 The unbeaten Mancunian looked in all sorts of trouble as the former cruiserweight world champion sent him sprawling to the canvas at the start of the second round, but regrouped well to eventually wear down his 36-year-old opponent.
Ultimately Fury's three-stone weight advantage told as he walked down and began to overpower his rival and, when it came, the end was brutal as he delivered a shuddering right hook from which Cunningham never looked like getting up.
While hugely entertaining, Fury's performance was still ragged and ungainly for long spells and in the early stages he appeared almost too fired up for his own good.
Having been caught by a sharp left hook in the first, he went on to push Cunningham on the way back to his corner as the bell sounded for the end of the round and was then caught cold at the start of the second.
Carrying his hands low, Fury was caught a glancing blow by a huge overhand right from Cunningham and sent crashing down although, after initially holding on for survival, he responded well to the knockdown and had recovered his composure by the round's end.
On the attack
Instead of attempting to ease his way back into the fight, Fury went straight on the offensive at the start of the third and looked to make his sheer size count as he came marauding relentlessly forward.
The tactics worked to an extent although Cunningham was still having some success, notably a short-range right in the fourth that forced Fury to hold on again, although the Briton was by now offering plenty in return.
Having been warned earlier on, Fury was then deducted a point for use of the head in the fifth, but a fine body shot hurt Cunningham towards the end of a round which finished with both men exchanging on the ropes.
By the midway point Cunningham was beginning to struggle with Fury's constant pressure and was finding it increasingly hard to keep his opponent at bay.
The Briton dominated the seventh and ultimately Cunningham was not to hear the bell; clearly hurt by a body shot, the American was further staggered by an upper cut and then Fury found a savage short-range right to the jaw to end the contest.
The exuberant 24-year-old celebrated wildly as his man was counted out and then rather bizarrely serenaded the crowd at the Madison Square Garden 'Theater Arena' as he introduced himself to America in memorable style.