Light middleweight: Saul Alvarez unifies titles with points win over Austin Trout
Saul Alvarez unified the WBC and WBA light-middleweight titles with a unanimous decision over Austin Trout in Texas.
Last Updated: 22/04/13 3:12pm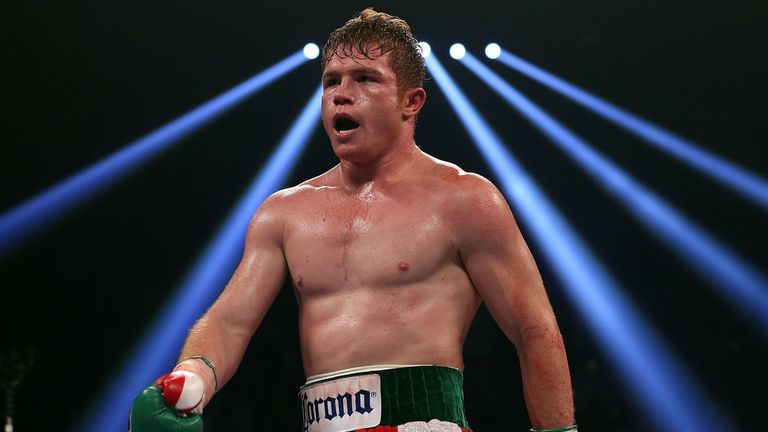 Alvarez (42-0-1) defended his WBC title while also claiming the WBA and Ring Magazine belts, receiving winning scores of 115-112, 116-111 and 118-109.
Alvarez's brother, Rigoberto, lost the WBA title to Trout in February 2011 in the family's hometown of Guadalajara, but it was a defeat that provided the inspiration for Saturday's victory, stating: "This is for my brother. It was a big motivation for this fight.
"Austin Trout is a very difficult fighter. He's a southpaw. But we were more intelligent in this fight today - and the better the opponent is, the better we will get."
Alvarez knocked down Trout (26-1) once and staggered him several times to the delight of the crowd of 39,247 who kept up a constant chant of "Mexico! Mexico!"
Active
Trout was the more active fighter, connecting on 154 of 769 punches compared to 124 of 431, but Alvarez landed 43 per cent of his power punches compared to 27 per cent for Trout.
The fighters stood toe-to-toe for much of the bout, both unwilling to tie up the other at the expense of possible power punches. Referee Laurence Cole only broke up the fighters once, doing so midway through the first round.
Both fighters kept their distance early in the opening round, with Trout delivering the first meaningful blow with a right jab to Alvarez's forehead with 1:52 remaining. Alvarez was able to press the action, stringing together several combinations to win the round.
The action picked up significantly in the second round with Alvarez delivering a series of body blows and Trout's corner nearly pulling down the ringside cameraman because he was obstructing their view. Alvarez dominated the action, taking the second round, too.
Staggered
Alvarez staggered Trout with a left hook to the body midway through the third round, causing the southpaw to stop and wince. Trout recovered, delivering several body blows. Alvarez stunned Trout with a left hook to the head in the fourth as the fighters continued to trade blows.
The Mexican dropped Trout early in the seventh round, catching the southpaw flush to the chin with a powerful straight punch. Trout staggered a few steps backward before falling front first to the canvas. Alvarez continued to deliver right hooks and jabs to the head, staggering Trout twice more in the round.
Thanks to the semi-open scoring system, Alvarez's corner could advise their fighter he was ahead through eight rounds. He went into defensive mode from there, but still won easily.
Trout had no complaints with the result. "He was better than me," he said. "I have no excuses."