Anthony Ogogo is looking forward to taking on Kieron Gray this weekend
Hot British boxing prospect Anthony Ogogo says he cannot wait to get his professional career up and running.
Last Updated: 27/04/13 8:55pm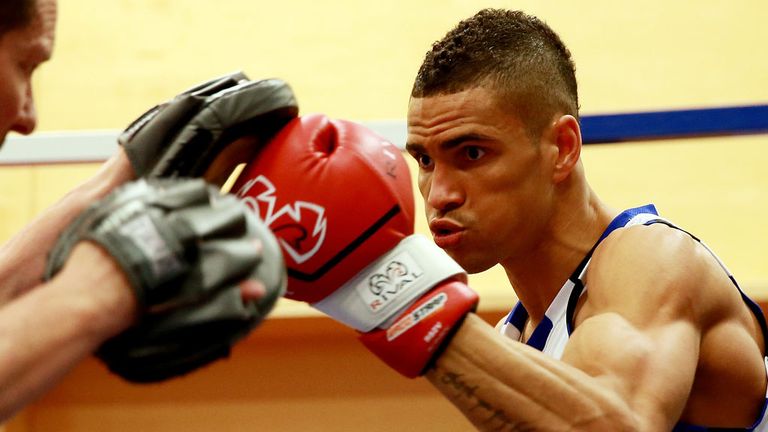 The 24-year-old won a bronze medal at the Olympics last summer and will have his first fight since then when he takes on Telford middleweight Kieron Gray over six rounds in Sheffield, on the Amir Khan undercard.
Ogogo is looking forward to the bout and says he will not be rushing his progress through the ranks.
"I am so excited, I feel great," said Ogogo. "I haven't been in the ring since last summer and I can't wait to go.
"Ultimately, I want to become the best middleweight in the world. Whether it takes three years or six years, it doesn't matter.
"Putting time frames on it puts pressure on for no reason. However long it takes, it will take that long.
"I loved my time as an amateur and competing for myself and my country around the world, but I am very happy now to be in the next chapter of my career and I'm looking forward to the next step.
"I had a bit of time off and spent a bit of time with the family after the Olympics but, since the turn of the year, I've been back in the gym, training hard, working hard and looking to the future.
"I can't wait to fight now and get this first one out of the way. I want to come through, look good, and continue to build on it."
Gray can present a challenge
The 35-year-old Gray has lost 13 of his 19 professional fights but Ogogo thinks he will pose some problems.
"He's good," said Ogogo. "They gave us a list of three or four people to box and he was the best of them.
"We picked him because he was the best person available.
"I have always been in this game because I want to challenge myself. I want to box the best guys in the world and be the best guy.
"It is about learning and taking each step as it comes. He is going to present some challenges and hopefully I will have enough to get beyond him."