Julio Diaz is a brave man to come over and face him in Sheffield, says Amir Khan
Amir Khan says victory over Julio Diaz this weekend in Sheffield will thrust him back into world title contention.
Last Updated: 27/04/13 10:11pm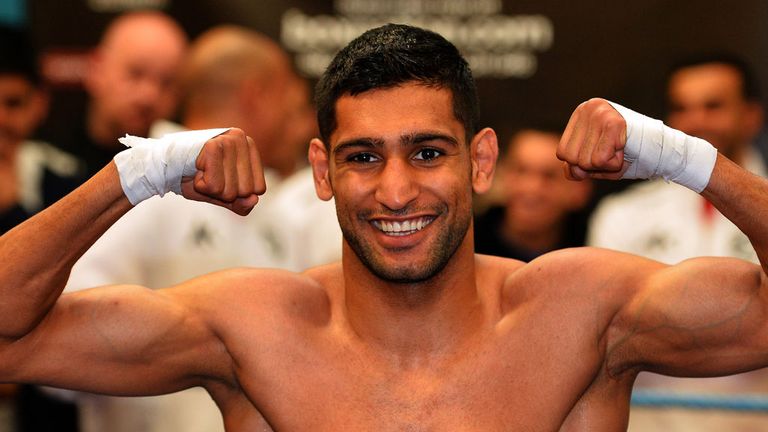 And Khan says Diaz, a California-based Mexican, has shown "bottle" by agreeing to fight the Brit on his home turf.
The duo will meet in a 143-pound 'catch-weight' bout at the Motorpoint Arena on Saturday and Khan is confident he can build on his December win over Carlos Molina, having previously lost world title fights to Lamont Peterson and Danny Garcia.
"I need to thank Julio Diaz for coming all the way from America," said the 26-year-old Khan, who will be fighting in Britain for the first time in two years.
"Not many fighters do what I do. I go to their hometown or home country and fight them there, with my world titles.
"But no-one likes to come to me and fight in my home country, so it is great Julio Diaz has shown bottle and come over.
"Julio is coming down from 147 to fight me, that is why we have made the fight at 143.
"We are going to be ready and strong at this weight. It is the first time I have been heavier than 140 for a long time but I think it will suit me. This fight will straight away elevate us back into world-title fights.
"But I am not thinking any further than this fight yet. I just want to get through this one and then we will know exactly where we are."
Perfect
However, the 33-year-old Diaz has held a version of the world lightweight title in the past and says he will be the one who will triumph on Saturday en route to even bigger things.
"Everything is perfect, right on point," he said. "I feel good. I have to perform and look good and try to put him out.
"This is the key to open the doors. I beat Amir Khan, I get another world title shot. He is on my way.
"I just do my job, put him out, go back home.
"We know what we need to do. He is a great fighter but he makes a lot of mistakes and we are looking to capitalise on them."