Carl Froch feels rematch with Mikkel Kessler will be brutal and vicious
Carl Froch is expecting a brutal night when he looks for revenge against Denmark's Mikkel Kessler next month.
Last Updated: 08/05/13 11:38am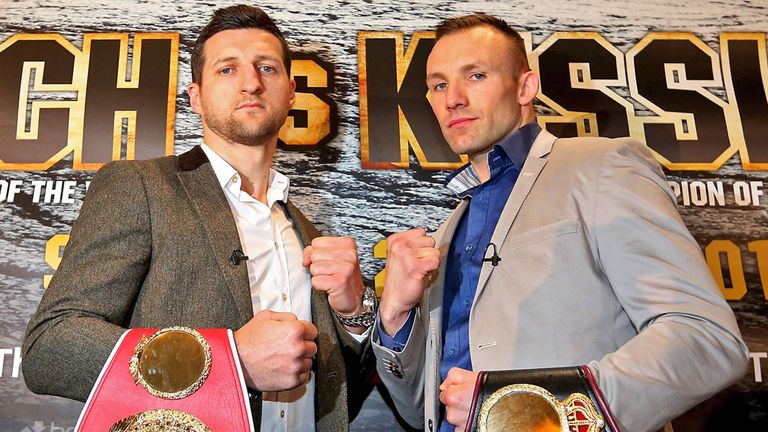 IBF super-middleweight champion Froch was beaten on points by WBA No 1 Kessler three years ago in a fiercely-contested bout and he says their much-hyped second bout on May 25 will be no less exciting.
The 35-year-old, who will have home advantage at the O2 in London, believes he can avenge the defeat and feels the opening exchanges could even match the 1985 middleweight classic between Marvin Hagler and Thomas Hearns.
Froch told the Daily Star: "If we come out from round one both trying to prove a point, it could be one of those where, in two or three rounds, you see that much action you think there is no way this is going 12 rounds.
"If that happens, the knockout is going to come for one of us. I'd like to think it will be me knocking him out and I strongly believe I've got what it takes to do that.
"If he comes out firing, I'm not going to sit back and let him get some confidence because that would be the fight lost. I've got to fight fire with fire.
"So potentially, this could be another Hagler-Hearns - it could even eclipse that and it could be brutal and vicious from round one.
"That will really be round 13 straight away for us as we've been in there and shared 12 rounds with each other - we know what we are about and what to expect.
"If this does go how I think it might, which is quite worrying, it's going to be brutal, and I am not just saying that to put bums on seats because it's sold out and it's going to be a big Sky Box Office hit.
"People are going to get value for money. People have been upset in the past about pay-per-view fights because they got sold a lie or illusion but this time there will be no gimmicks or people rolling around on the floor and slapping each other in the face."