Audley Harrison admits his career may be over in wake of Deontay Wilder defeat
Audley Harrison admitted his career may finally be over after he lost to Deontay Wilder on Saturday night.
Last Updated: 28/04/13 8:46pm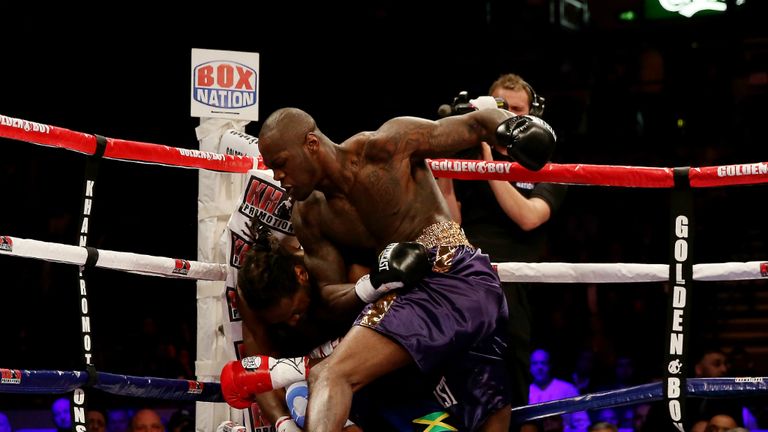 The British heavyweight suffered his second first round loss in the space of seven months, having also been humbled by David Price at Liverpool's Echo Arena last October.
Many pundits expected 41-year-old Harrison to call it a day after that fight only for him to battle on, winning the Prizefighter crown in February.
But after succumbing to a powerful onslaught by Deontay in Sheffieold, Harrison has conceded his time in the ring may finally be over.
"I've always said when I go into a fight 100 per cent ready and I get beaten by the other guy, I've come to my time. This could be the end for me," he said.
"I've given everything to fight for a world title. I've never given up and I've pushed and pushed and pushed.
"I have got a lot to be proud of, but I have been found wanting on a few occasions and I have to look at myself and accept that.
"I will go away and think about it. My wife is expecting our baby next week so I will go home and God willing I will celebrate that. I don't think I can continue to put myself and my family through it."
Boos rang out after his latest defeat but Harrison remains convinced his career will be judged in a more positive light over time.
"I think in the long term people will look at me more favourably because I have never given up and I have achieved a good level of success," he added.
"I have made a lot of noise and opened a lot of doors on the promotional side.
"I will rue not fighting for a world title but I am happy with what I've achieved. I went from being a nine-year-old in the ghetto to becoming an Olympic gold medallist. The rest of it just wasn't to be."