David Haye is looking to make the most of his chance to shine against Manuel Charr
David Haye is looking forward to putting on a performance when he faces Manuel Charr in Manchester on June 29.
Last Updated: 01/05/13 5:53pm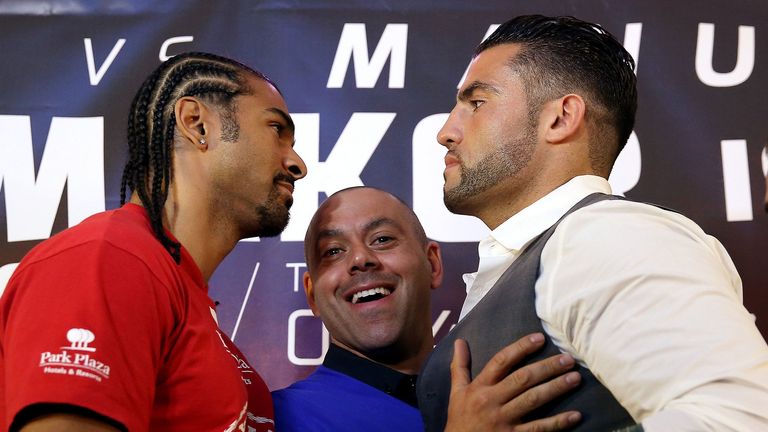 Haye will fight for the first time in almost a year when he takes on Charr, having stopped Dereck Chisora in five rounds last summer.
But Haye is expecting a sterner test this time around.
"He's a genuine heavyweight, he's a guy with a lot of heart and he'll fight until he's dead," he told Sky Sports. "He's a serious guy and people are excited about that.
"He's going to be in my face. He's not a slick boxer or try and be clever, he's going to get in my face and try and hurt me so I need to be prepared for that.
"Manchester Arena's going to be buzzing and my two successful world title defences were there. It's going to be a great night."
No contact
Haye is taking a more traditional route to get to the Klitschko brothers, who hold all the heavyweight titles between them, hoping to make it impossible for them to not fight him.
"I have to get to number one and they can only duck me for so long," he added. "They verbally agreed that if I beat Dereck Chisora they'll fight me next.
"We haven't heard any contact whatsoever from team Klitschko since then so you've got to assume they're not interested and going down another route.
"It's one of those things. I've just got to train hard and make sure my fights are exciting.
"It's a great opportunity. He's a big strong guy, but Dereck Chisora was a durable guy who had not been on the floor once, and I knocked him out in five rounds.
"I want to do a similar thing. If you put on spectacular performances the world looks up and takes note and that's what I'm looking to do."
Personality
Promoter Eddie Hearn is delighted to be a part of Haye's journey as he bids to regain a portion of the heavyweight title.
"He's the most entertaining heavyweight on the planet bar none, boxing needs him back, and he is back and it's great news," he said.
"He's a great fighter, a huge personality and I for one am delighted that he's back and I'm pleased to be part of this journey.
"The Fury fight is a massive domestic fight and the Klitschko fight lingers around, but this is a tough fight to come straight back to and I know Charr fancies his chances."