Jamie McDonnell believes threat of Julio Ceja will bring best out of him in their title clash
Jamie McDonnell believes the 'fear factor' will help him tame ferocious puncher Julio Ceja in their world title clash.
By Richard Damerell
Last Updated: 03/05/13 3:21pm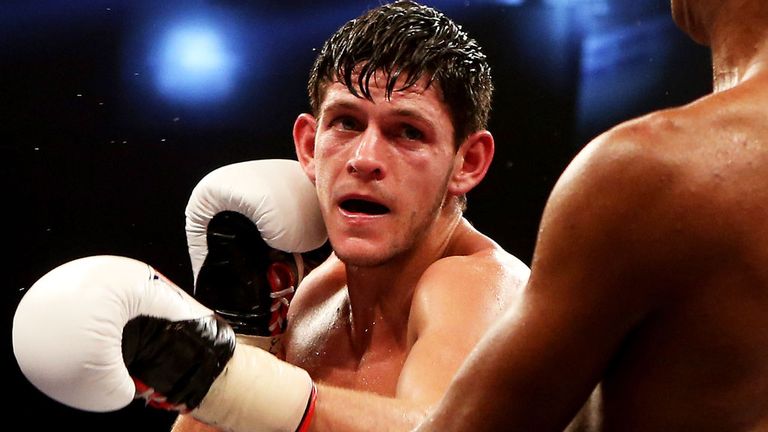 McDonnell is preparing to battle Mexican Ceja for the vacant IBF bantamweight title in his hometown of Doncaster on May 11.
The former European champion is having his first crack at a world crown and faces an unbeaten foe with 22 knockouts in his 24 wins.
McDonnell admits he cannot switch off for a second against such a dangerous opponent, but believes the threat of a big puncher will make him produce a disciplined display.
"Just his record alone would scare some people," McDonnell told Sky Sports.
"I had the fear factor for the Stephane Jamoye fight. He was 19-1 and had knocked nine out. It brings the best out of you, because if they hit you with that one shot it could all be over.
"It does bring the best out of you, that bit of fear, it's good for you."
Movement
Ceja has vowed to knock out McDonnell in front of his own fans, but the 27-year-old is not unnerved by this prediction and plans to make his rival regret his words.
"It's like me saying I'm going to knock him out. I think I will. I think I'll grind him down after six rounds, break him up and do a good job on him.
"If not, I'll outbox him and look good. I hit and move, I'm not going to sit there and start trading with him. The kid can bang, but I don't think he will have been in with anyone as good as me, who can move as good as me."
McDonnell has overcome a number of obstacles in his career, travelling abroad to win the European belt against Frenchman Jerome Arnould, and also came through tough fights against Jamoye and Stuey Hall.
All of Ceja's previous fights have been in his home country against largely unheralded opponents, and McDonnell feels he is better prepared for a world title challenge.
He said: "I think I've mixed with better opposition. Some might not be massive names, but I had Jamoye, a 21-year-old, hungry, fit and strong. I had Stuey Hall, who is mature, strong and could bang. I also had Ian Napa, who is slick, very tricky.
"I've boxed some of the best styles out there which has prepared me for this massive test.
"I've been and done a bit of everything. I've dug in over a few 12 rounders, I've been abroad, I know what it's like to travel. You're out of your comfort zone.
"I've tasted pretty much everything, but this kid hasn't been tested, he hasn't been out of his comfort zone.
"He definitely hasn't boxed anyone like me, but if he says he is going to knock me out, then he is going to try and knock me out.
"We've trained hard, had a long 10 week camp and we're just ready to roll."