Mikkel Kessler will spar George Groves and Nathan Cleverly ahead of rematch with Carl Froch
Mikkel Kessler believes sparring with George Groves and Nathan Cleverly is perfect preparation for facing Carl Froch.
Last Updated: 08/05/13 11:40am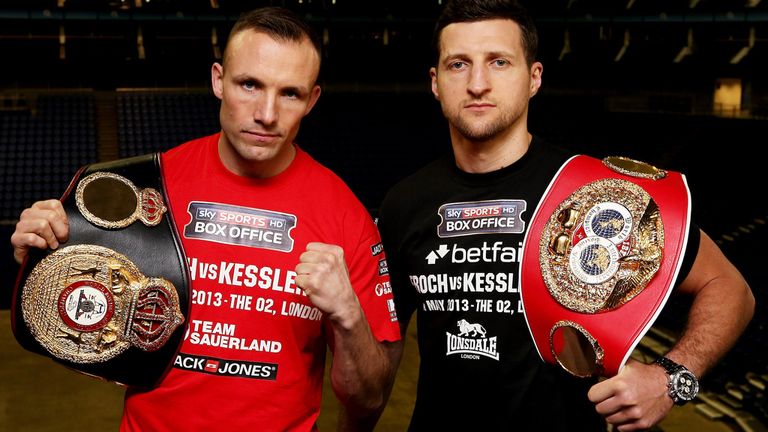 Kessler has been training hard for his eagerly awaited super-middleweight clash against Froch at the 02 Arena in London on May 25, live on Sky Sports Box Office.
Super-middleweight Groves, who features on the undercard, and WBO light-heavyweight champion Cleverly have flown out to Copenhagen to test themselves against the Dane in sparring.
Kessler has welcomed the chance to sharpen his skills against two of Britain's top boxers and feels the sessions will ready him for a red-hot battle against old foe Froch.
Top-ranked contender
"It's great to have them in Copenhagen," Kessler said. "This is the best preparation I could have asked for.
"To have three guys like that - a world champion, a youth world champion and a top-ranked contender - is probably as good as it gets in terms of sparring. They are young, hungry and unbeaten and they will push me to the limit.
"That's exactly the kind of warm-up I need to beat Carl Froch again."
Swedish light-heavyweight Erik Skoglund has also supplied his services as a sparring partner and promoter Kalle Sauerland is confident that Kessler will be in peak form on fight night.
"Mikkel is the kind of fighter who always wants to test himself against the very best, no matter whether it's training or the actual fight," he said.
"Cleverly, Groves and Skoglund - the fact that he wants to get it on with them in training really shows you what the Viking Warrior is all about.
"When push comes to shove on May 25, the fighter with the better preparation will prevail, and that's just another reason why Mikkel will leave the ring victorious."