Ricky Burns delighted to get past 'classy' Jose Gonzalez and retain his WBO title
Ricky Burns was happy to get past an "awkward" Jose Gonzalez and retain his WBO lightweight title in Glasgow.
Last Updated: 12/05/13 1:41pm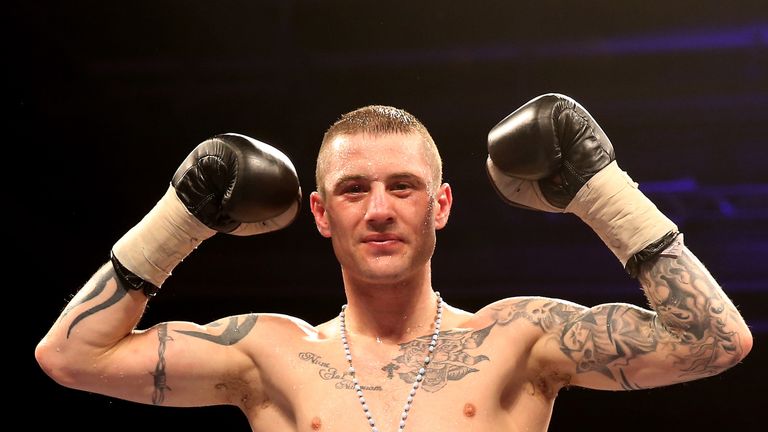 Puerto Rican Gonzalez threatened to spoil the party at the Emirates Arena, impressing in the first half of the fight before having the champion in trouble during a dramatic seventh round that saw the two stand and trade blows.
However, the challenger could not drop Burns - back in the ring for the first time since stopping Kevin Mitchell last September - and then appeared to run of steam.
He refused to get off his stool for the start of the 10th round despite being ahead on the scorecards, though it was suggested a wrist injury played a part in scuppering his title dreams.
"I was saying to Billy in the corner that I couldn't believe how awkward he was," a relieved Burns told Sky Sports after making a third defence of his belt. "Billy was saying I was lunging in, but I think that was because I was trying to go out and go to town a bit.
"I knew that the rounds were close - they've said that the judges had me behind. But I felt the round before he pulled out he was getting tired and that's when I started upping the work rate.
Class opponent
"I take my hat off to him - he's a class, class opponent. (He was) very good technically and very hard to hit.
"I knew going into the fight he was a good boxer and that he could punch, and he was a very heavy hitter in both hands, and we knew he was going to be awkward.
"We couldn't get much footage of him; the only clips we could get were of him knocking boys out. I thought he would have been a come-forward fighter, but his arms were so long.
"He caught me with a few good shots - but I proved I can take a good shot. He did hurt me in that round, but that's when I just decided to stand my ground and trade back with him.
"Maybe I was guilty of over-stretching as well. I'm out there to make the fight exciting, but maybe I need to go back to the drawing board a wee bit."
Pressure
Burns was in action for the first time since joining the promotional stable of Eddie Hearn, who was full of praise for both his new signing and the Scottish fight fans in Glasgow.
"He (Burns) had a lot of pressure on him tonight - the pressure of a new start and also the pressure of a nation on his shoulders, Hearn said.
"Gonzalez is a class, class fighter, very awkward.
"I felt Ricky was breaking him down; he'd won the last two rounds and I thought he was going to go on and win three more.
"But sometimes when you're not at your best, to show heart and the determination that Ricky did shows he is a champion. (He showed) Unbelievable courage in the seventh round, he dug in there and that's when he found his best
"We'll be back here in September for another huge night."