Robin Reid expects Carl Froch to defeat Mikkel Kessler in a dogfight on May 25
Robin Reid has tipped Carl Froch to gain revenge over Mikkel Kessler with a dominant victory on May 25.
By Richard Damerell
Last Updated: 16/05/13 1:06pm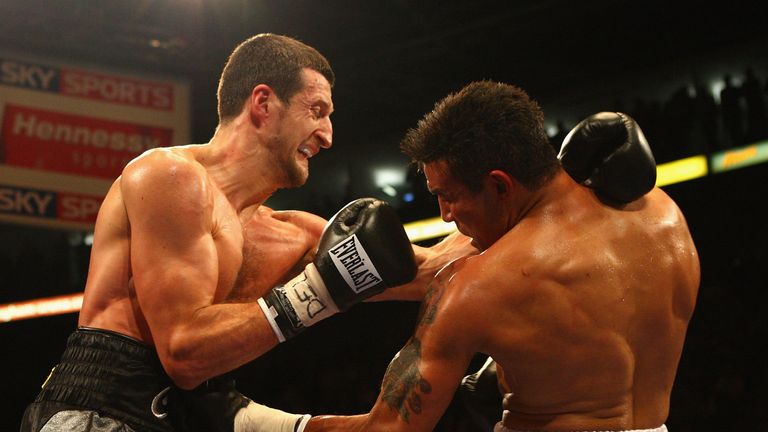 Reid is fully aware of Froch's qualities after their British title clash in 2007 which ended in a fifth-round stoppage win for the Nottingham man.
Froch continued his rise to become a three-time world champion and will face Kessler in a super-middleweight unification clash at the 02 Arena in London, live on Sky Sports Box Office.
Reid, a former world champion himself, has kept a close eye on his old foe's progress and believes Froch is still improving in the latter stages of his career.
'The Reaperman' is impressed with Kessler's ring skills, but thinks the Dane will quickly find himself in a brutal dogfight which will suit the home fighter.
When asked about Froch's tactics, Reid told skysports.com: "He wants to drag him into a fight.
"Kessler is very technical and is good at what he does, but he lacks that bit of flair maybe and Froch has got that flair.
Better
"I think that flair which Froch has got will draw Kessler into more of a fight, or he is just going to run away with it."
Predicting a winner, Reid said: "I think Carl Froch, because he's on a roll, he's getting better and better.
"He was good a while back, but he's getting better with every fight that he has, and I think he'll want to get one back over Kessler. It's in his home country as well.
"I think Carl Froch on points, you never know, he could pull a stoppage out of the bag, but Kessler's a durable fighter and I'm looking at Froch on points."
Reid and Froch swopped big shots in their British title battle and he admits that 'The Cobra' possesses plenty of venom in his punches.
"I remember he caught me with the right hand, I didn't lose consciousness, but my legs wobbled. That's why I went down.
"I still knew where I was and everything, but he's a good stiff, solid puncher."
Froch has revealed that Reid caught him with one of the biggest punches he has received during his professional career.
The Runcorn man remembers landing the big right hand at the end of the fourth round, but Froch quickly recovered and forced the finish in the following stanza.
He said: "I knew that would be the punch probably, the right hand over the top, because that's a good punch of mine anyway. Plus he's a tall opponent.
"He's not a bobber and weaver or slipper of punches, so I thought that was the punch for him, and it was. But my elbows were gone so I couldn't throw it again.
"You know you've got that one opportunity and if it doesn't actually clean him out, then that's your last chance gone.
"It caught him at the end of the fourth round and he said to me afterwards that he didn't know where he was."
Demolishing
Most of Froch's fights were overseas when he competed in the Super Six tournament, but Reid feels he is finally getting the recognition he deserves after demolishing Lucian Bute in Nottingham last May.
"It was after the Bute fight when everyone started taking note. That's a shame really, because he'd been in the Super Six, he mixed it with some of the best and was runner-up basically.
"He got beat by Andre Ward, who a lot of people are classing as one of the pound-for-pound best fighters in the world. He gave him a decent fight.
"It's shame that it's taken this long for people to start taking note of him."