Larry Ekundayo returns to the ring in Saturday's Prizefighter show
Spencer Fearon insists Larry Ekundayo can go all the way as the former Prizefighter winner returns on Saturday night.
Last Updated: 18/05/13 1:39pm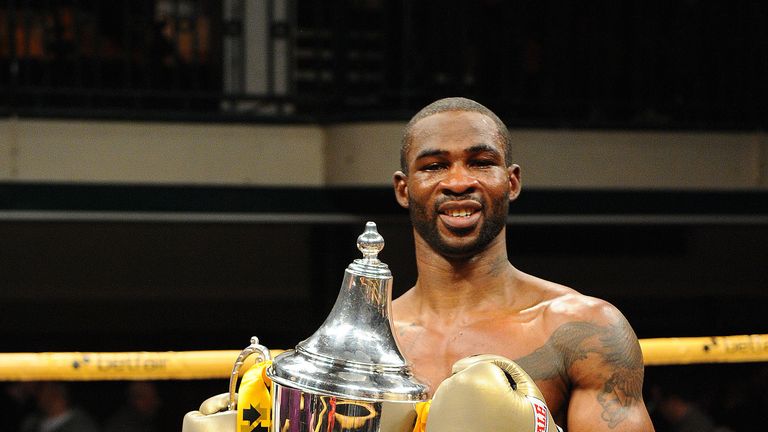 The London-based Nigerian has not been out since winning his own Prizefighter title at light-middleweight title in November, but is back in an eight-rounder against Howard Cospolite.
What made the success all the more remarkable was that Ekundayo went into the event with just two wins from two professional fights on his resume - and that he is really a natural welterweight.
But his ebullient manager Spencer Fearon has little doubt that the man they call 'The Natural' has the ability to make his mark in the welterweight division.
"Anyone who watches Larry will become a fan of the noble art of boxing," Fearon told Sky Sports. "Here is someone who is ridiculously talented.
"I'm just being real. Without me being cocky, Larry can handle anyone in the top 10 right now.
"At welterweight there's loads of guys. Denton Vassell and Frankie Gavin are fighting soon, my friend Colin Lynes is out as well and Lee Purdy's fighting for a world title."
Respect
Fearon, the star of skysports.com's weekly Toe 2 Toe podcast, would be happy to put the 30-year-old Ekundayo in with any of the big domestic names at 147lb.
"I'm overjoyed for Lee (Purdy) to be fighting for a world title and making fantastic money," he added. "He's not meant to win but the gods can shine on you.
"Any single one of them Larry will beat. I wouldn't want him to end Matthew Hatton's career! The only one he can't beat is Kell Brook. And I say that out of respect to Kell. But skill for skill none of these boys have got Larry's talent. He will eat all of them."
Fearon said Ekundayo is in a great place now with his visa issues behind him, and is ready to shine once more.
"Larry's happy right now. He's training every day, he's got sponsorship and good people round him. What more does he want? He's honest as the day is long. He is the cheerleader for all our boys at Hard Knocks and he's always been the measuring stick.
"You've never seen anyone as impressive as Larry in Prizefighter. He's got more tricks that Paul Daniels. He's got skills to pay the bills and heart to play the part. You know what I mean?"