Brian Magee confident that Mikkel Kessler will beat Carl Froch again in their rematch
Brian Magee believes Mikkel Kessler will inflict a repeat defeat on Carl Froch in their rematch on May 25.
By Richard Damerell
Last Updated: 20/05/13 10:20am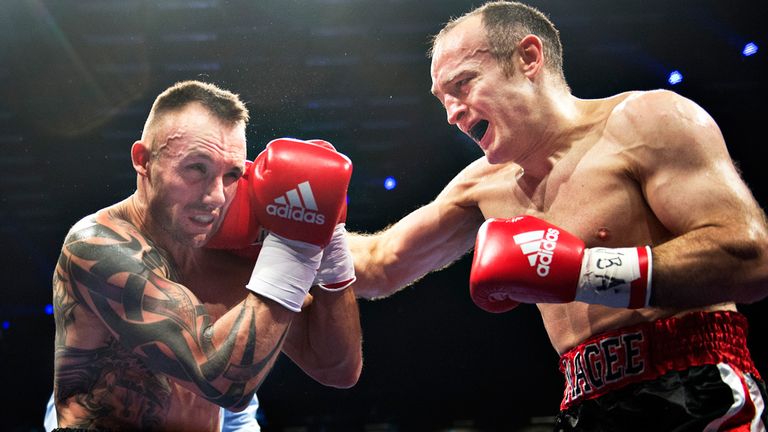 Kessler took a points win after a thrilling fight with Froch in 2010 and the pair will collide again at the 02 Arena in London, live on Sky Sports Box Office.
Magee has shared the ring with both men, suffering stoppage defeats on each occasion, and he feels the pair possess different strengths.
The Dane dissected Magee's defences with body shots in their world title fight last December and the Belfast man was impressed with his opponent's sharp tactical brain.
"Kessler's fast, he's still very fast. He's a good boxer and mover," Magee told skysports.com.
Precise
"It's his mental side too, he's good at breaking you down, looking for openings. The fight was very fast for two rounds. I found out in the first few rounds that his speed was very good.
"If you watch the Carl Froch fight back again, even in the last rounds when they are both toe-to-toe, Kessler was cool and smart enough. His boxing brain was still ticking over while Froch was just like a mad dog in a frenzy, throwing wild punches.
"Kessler was still cool, stepping back, throwing hooks, back out of danger again and back in. He was constantly concentrating on boxing all the time.
"He wasn't just head down and swinging and I think that is what Carl has to watch out for, because Kessler is a precise puncher."
Magee admits that Kessler targeted his body with deadly accuracy and fears that Froch could even be stopped if he receives similar punishment.
"He's good to the body," he said. "It was that big right hand.
"It caught me right on the solar plexus, it was like he punched through me.
Matured
"In ten fights you couldn't throw a better punch. Even in the (Lucian) Bute fight, it was far harder than the Bute fight. If he hits Froch like that there, it's like being caught on the chin. You'll knock anybody out with a punch like that."
Magee faced Froch back in 2006 and has been impressed with his old foe's steady progress as he stepped up to world title level.
"He's matured, his strength's matured, his power has matured," said the 37-year-old.
"Those kind of things which are natural with age. He's improved that way,"
"He's had a fantastic career. All credit to him, he's hung in during some hard fights when he's been on the ropes at the losing end and he's turned the fight around with one punch. He's done what has been asked of him."
The Ulsterman battled back strongly against Froch after being floored in the first round, but a big uppercut from 'The Cobra' ended the fight in the 11th and Magee respects his punch power.
"I don't think he is one of the biggest but he definitely hits hard.
"Super-middleweights are all hard punchers. If you are going to land right, you are going to knock someone out. But he is definitely a concussive puncher. His big strength is his big uppercut, that's his biggest punch."
Improvement
Magee insists Froch is not an elusive target and is fortunate to have a granite chin, which has withstood heavy punishment throughout his career.
He said: "I think he's lucky he's got such a good chin. He's easy to hit.
"I suppose if he can take a hit, he can keep his hands down, but definitely he is easy to hit and Kessler bangs hard too.
"He was in trouble in the last fight against Kessler. I thought Kessler won that easier than the scorecards suggested.
"It was a great fight. It depends on whether he makes improvements, but he's got away with it so far."
Kessler is the more complete fighter according to Magee, who thinks the 'Viking Warrior' has far better footwork that Froch.
"The fight with Kessler, I was a lot more worried about. The fight with Froch, I thought my boxing ability was better than Carl when I fought him. So when I went into the fight, I was confident," he said.
"I wasn't for Kessler. I knew he was a good boxer and could move as well on the back foot and move round, but Carl isn't as comfortable, he doesn't float around the ring. Kessler can float round the ring, he can move well and he can attack and fight. I think that was the difference.
"Carl can come forward, he can fight, he can hit hard as well, he is not as good a boxer. If you put Carl on the back foot, he's not as good."
Surprised
Kessler was willing to engage Froch in a fire fight when they first met, but Magee expects him to adopt a more refined approach in the rematch.
He is confident that Kessler will resist the temptation to stand and trade, instead relying on his ring skills to secure another points win.
"Hit and move, that's what his game plan is going to be and Carl's going to try and get on top of him, make it a toe-to-toe fight, that's Carl's strength, he's so big, so strong, he hits hard. That's how he's got where he is now," said Magee.
"I went against Carl the last time against Bute and he won it. I do actually think Kessler's going to do it. I think Kessler's going to outbox him.
"I think Kessler knows what's ahead of him. He knows how to beat him, has beaten him before and I think this time he is going to beat him better.
"Carl as well, he works hard, he's one of the best fighters in Britain at the moment. If I had to put money on the line, I would go for Kessler.
"Carl's proved me wrong once before so I wouldn't be surprised if he does it again, but I fancy Kessler to outbox him and take a good win."