Eddie Hearn can't wait for Carl Froch vs Mikkel Kessler on Saturday
Eddie Hearn labelled Froch vs Kessler II as 'fight of the decade' as the countdown to the fight began in earnest.
Last Updated: 21/05/13 10:39am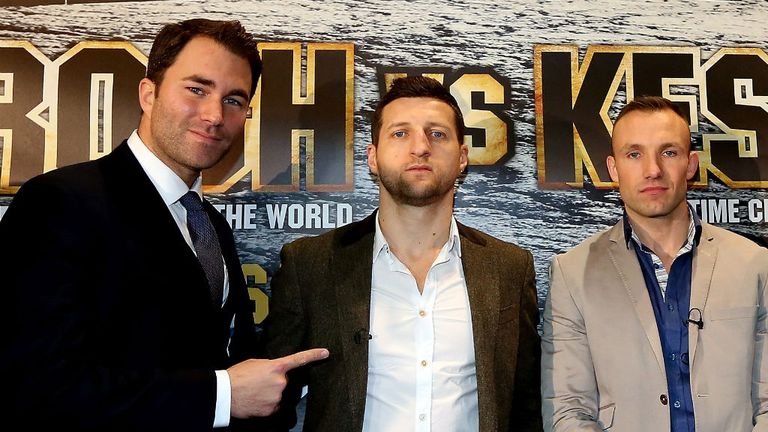 Froch appeared in a public workout in Nottingham's Market Square as preparations for the super-middleweight unification clash reach a conclusion.
And promoter Hearn is as eager as anyone for Saturday's mouth-watering clash to get underway.
"There's huge anticipation ahead of the biggest fight of this decade," he told Sky Sports. "This is a war of a fight and the whole country can't wait.
"This is head and shoulders ahead of anything we've ever done, we sold 19,000 tickets in three hours and that was 20 weeks ago.
"You know what you're going to get from Carl Froch and Mikkel Kessler, they only know how to fight one way. I'm sure they'll have their own tactics going into the fight but that will go out of the window once they start exchanging blows.
"There were 10,000 in the O2 for the Premier League darts last week so double that and add the hostility of a boxing crowd with 18,000 Brits and 1,000 Danes - it's going to be a special atmosphere."
Sparring
Much of the talk over the weekend centred around Froch's Matchroom stablemate George Groves helping Kessler with sparring sessions in recent weeks, apparently to the displeasure of Froch.
However, Hearn preferred to look on it as a positive for Groves, who will fight Noe Gonzalez on the undercard.
"For George Groves, sparring with Kessler is great and I'm sure it's going to improve his performance," Hearn added. "
"Some don't like it but I wouldn't look too much into that. George is in a big fight himself and maybe we heard some stories out of that camp as well!
"I don't blame George for going out there and it fuels the fire for a potential Groves v Froch fight in the future which in time will surely happen."